Internet Modeler : New Releases : Aviation
RSS News Feed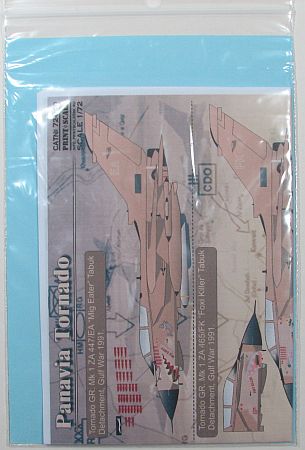 Print Scale 1/72 Panavia Tornado Decals
Once again Print Scale has released a set of decals for an older kit, with the entire sheet consisting of aircraft that flew during Desert Storm in 1991. This sheet is in 1/72 and is for the Panavia Tornado. The following aircraft are covered:
Tornado GR. Mk 1, ZA447, "MiG Eater"
Tornado GR. Mk 1, ZA465, "Foxy Killer"
Tornado GR. Mk 1, Za739, "Armored Charmer"
Tornado GR. Mk 1, ZA748, "Anola Kay"
Tornado GR. Mk 1, ZD746, "Alarm Belle"
Tornado GR. Mk 1, ZA471, "Emma"
Tornado GR. Mk 1, ZD850, "Cherry Lips"
Tornado GR. Mk 1, ZD892, "Snoopy Airways"
Tornado GR. Mk 1, ZA374, "Angel Face"
Tornado GR. Mk 1, ZA844, "Donna Evin"
Tornado GR. Mk 1 ZD890, "Hello Kuwait G Bye Iraq"
The decals are very nicely printed and appear to be in register. There are stencils not only for the aircraft, but also for some ordnance. All aircraft were painted overall in Desert Pink. The instructions appear top-notch, not only showing where all stencils are to be applied, but also variations of color in the airframe (black nose, brown "wing seal bags", etc.).
If you're looking for alternative markings for a GR Mk.1 Tornado, and you want those markings to be for Desert Storm (I believe the British called it Operation Granby) then you'll definitely want to pick up this sheet.
Many thanks to Print Scale for sending this sheet to review.