Internet Modeler : New Releases : Aviation
RSS News Feed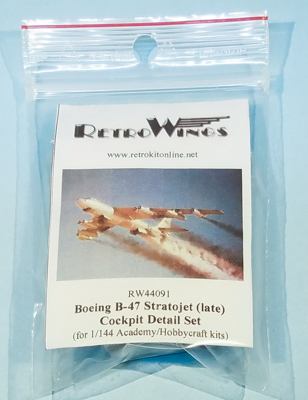 RetroWings 1/144 Academy/Hobbycraft B-47 Cockpit Detail Set
Overview
The Academy/Hobbycraft 1/144 B-47 has been out for some time. The biggest disadvantage to the kit is its lack of a detailed cockpit. Now thankfully rectofied.
The Resin
The RetroWings 1/144 B-47 cockpit consists of five pieces of gray resin: the main cockpit tub; two ejection seats; the canopy actuator; and the left side of the cockpit tub. The main, largest piece replaces kit part C9 while the two ejection seats replace parts C3 and C4, the tallest being the pilot's seat in the front. There is some work the modeler will need to perform, though, and that is all detailed in the instructions and deals mostly with items that go inside the canopy.
The separate part for the left side of the cockpit tub is included in case you wanted to open up the pilot's access door.
All in all this is a wonderful addition to the very nice 1/144 B-47.
Huge thanks to RetrokiT for the review set.