Internet Modeler : New Releases : Aviation
RSS News Feed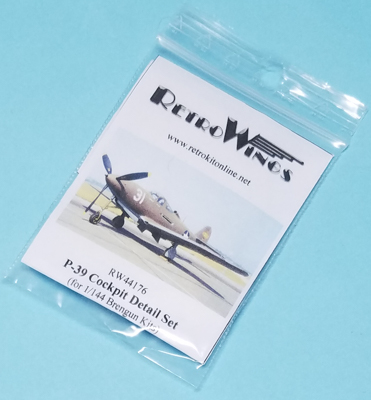 RetroWings 1/144 Brengun P-39 Cockpit Detail Set
Overview
Brengun has released a series of 1/144 P-39s, including the P-39Q. The cockpit is mostly okay out of the box but of course it could be enhanced. This is where this set from RetrokiT will help.
The Cockpit
The RetroWings 1/144 P-39 cockpit for the Brengun kit consists of five pieces of resin: the main cockpit tub; the seat; two cockpit side panels; and a control stick. Unfortunately my control stick was broken in transit and I didn't realize until I had poured everything out to take pictures, and lost the broken half. Oh well, not difficult to scratch build.
There is a little bit of surgery needed on the kit before you can add the resin cockpit but it's as simple as cleaning up the interior fuselage sides. Once that is accomplished then assembly should go quickly.
Conclusion
The Brengun 1/144 P-39s are decent kits and now there's a better cockpit available for it, they will build into a really top notch model.
I definitely thank RetrokiT for supplying the cockpit to review.