Internet Modeler : New Releases : Aviation
RSS News Feed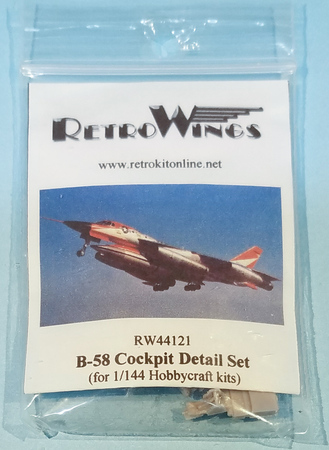 RetroWings 1/144 Hobbycraft B-58 Cockpit Detail Set
Overview
See built-up examples of the Hobbycraft 1/144 B-58 proves it's a decent kit. While it does have a cockpit out-of-the-box, it's definitely not as detailed as it could be.
The Resin
The RetroWings 1/144 B-58 cockpit consists of 11 pieces of gray resin: the forward cockpit tub; the two tubs behind the pilot; and three sets of two ejection seats and a control column. All parts are direct replacements for the kit parts, adding a control stick for the front cockpit (which means you'll have two extra control columns). In addition, the set comes with both sets of seats, the original Strategic Air Command (SAC) seats, along with the "newer" Stanley capsules with seats.
Note that if you use the Stanley capsules you'll need to sand down the sides so they'll fit into the rear crew compartments.
All in all this is a wonderful addition to the very nice 1/144 B-58.
I definitely send my thanks to RetrokiT for the cockpit to review.