Internet Modeler : New Releases : Aviation
RSS News Feed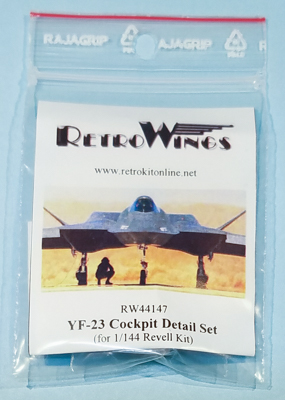 RetroWings 1/144 Revell YF-23 Cockpit Detail Set
Overview
When I first started my foray into building 1/144th I wasn't sure what I wanted to build, until I decided I would concentrate on jet aircraft. As I started to accumulate models towards that genre, one kit I really wanted, but was difficult to find, was a Revell YF-23. Thankfully, a few years ago, someone help my find this holy grail kit.
The Resin
The RetroWings 1/144 YF-23 cockpit consists of three pieces of gray resin: the  cockpit tub; the ejection seat; and one control stick. All parts are direct replacements for the kit's single - definitely not detailed - cockpit tub.
They say good things come to those who wait. While I've had my kit for a few years, I have never had a desire to build it, yet. And good thing, too, because while waiting, RetroWings releases this excellent, upgraded cockpit for it. Definitely worth opening the canopy for.
I thank RetrokiT for the sending me the cockpit to review.