Internet Modeler : New Releases : Aviation
RSS News Feed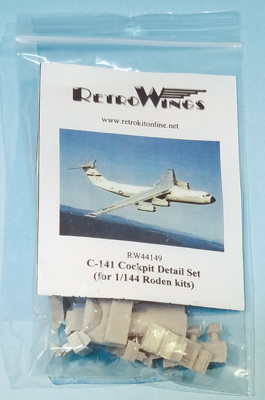 RetroWings 1/144 Roden C-141B Cockpit Detail Set
Overview
When Roden released their 1/144 C-141B, the modeling world was happy as we finally had a kit of this important USAF transport aircraft. However, unfortunately, Roden didn't include any kind of cockpit with it. Thankfully when A&A released their C-141A they realized they didn't want that same error and include a cockpit with that earlier version.
The Resin
The RetroWings 1/144 C-141B cockpit consists of 11 pieces of gray resin: the main cockpit tub; the pilot and co-pilot's seat; four jump seats; the port side instrument panel; the main instrument panel; and two control sticks (unfortunately one of mine broke in transit). RetroWings includes a (too small) photo on where all the resin parts are to be placed on the main cockpit tub. The instructions also show how you need to open up the non-existant Roden cockpit area.
Even with the kit surgery needed to be performed, having a cockpit in this large model will definitely look good and in my opinon much needed.
My thanks to RetrokiT for the allowing me to review this set.