Internet Modeler : New Releases : Aviation
RSS News Feed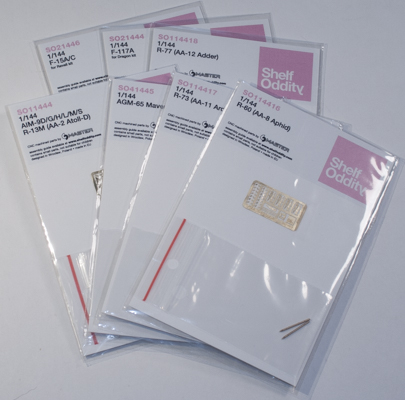 Shelf Oddity 1/144 Ordnance
Shelf Oddity is a recently new company out of Poland. They realized there was a need for 1/144 ordnance and so with help from Master have created ordnance for 1/144 aircraft models. While a necessity in 1/144, these are not for the feignt of heart. Each set comes with two "bodies", a photoetch fret and decals.
| | |
| --- | --- |
| AIM-9D/G/H/L/M/S R-13M (AA-2 Atoll D) | |
| AGM-65 Maverick | |
| R-60 (AA-8 Aphid) | |
| R-73 (AA-11 Archer) | |
| R-77 (AA-12 Adder) | |
Each body has machined holes the fins are fit into, along with whatever other photoetch pieces are to be added. This is where you need really strong magnification and a steady hand. It would also probably be a good idea to build these inside of some sort of container which should lessen the chances of losing the very tiny photoetch pieces.
Some of these are easier builds than others. For example the R-77 Adders have two sets of fins per "side" for a total of eight fins. The others have plenty more fins and other items to add to the bodies. The most difficult would be a toss-up between the AGM-65 Mavericks and the R-73 Archers. The Archers have a total of 16 fins to add, the nose-most ones extremely small.
One great thing about all the sets is Shelf Oddity includes a jig to help align the larger fins. This will definitely help to keep everything "straight".
So, if you're in need of any of these types to finish your 1/144 aircraft then not only is Shelf Oddity your only choice, but they're also great products to have and will look really great on any model.
Huge thanks to Shelf Oddity for the review samples.