Internet Modeler : New Releases : Aviation
RSS News Feed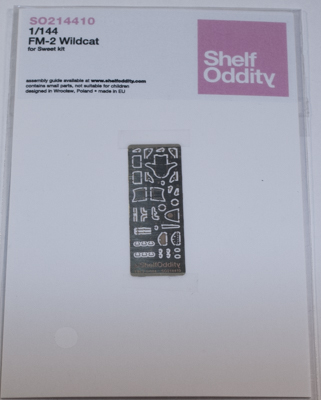 Shelf Oddity 1/144 Sweet FM-2 Photoetch Set
It's really great that Shelf Oddity supports kits that aren't supported by other aftermarket companies. This time they have released a photoetch set for the Sweet 1/144 FM-2. This set not only contains items for the cockpit but also external pieces as well.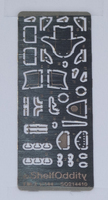 For the cockpit you receive a new fold-up seat with seatbelts; an instrument panel; and a rear bulkhead (which helps hide a seam) with a two-part head rest. This area also requires a piece of 0.1mm wire you provide.
Outside the biggest addition are photoetch landing gear gears. These too are a multi-piece affair and you definitely want to study not only the instructions but also the provided photos to help create the distinctive Grumman landing gear doors. The Shelf Oddity instructions also show how you should increase the diameter of the engine cowl to make it more correct and they also provide cooling flaps to further create a more-scale look. Other external pieces include stab hinges, an antenna and other bumps; a multi-piece pitot tube; and a "tail bumper" that is also created from multiple photoetch pieces and your own supplied wire.
This photoetch set from Shelf Oddity for the Sweet 1/144 FM-2 will really make the kit look a lot better and more "too-scale". Include it with your next build and you won't be disappointed. However, be sure to have strong magnification and lots of patience to work with the really small pieces.
My thanks to Shelf Oddity for the review sample. Keep in mind Shelf Oddity sets do not come with instructions, instead they are downloaded from their site.