Internet Modeler : New Releases : Aviation
RSS News Feed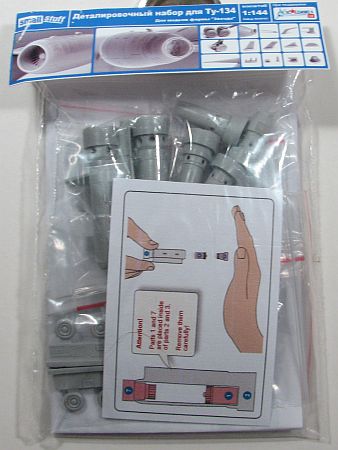 Small Stuff 1/144 Zvezda Tu-134 Detail Set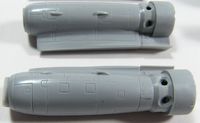 Not too long ago, Zvezda released what is now considered to be the best Tu-134 in 1/144 scale. The level of molding in this kit is very high, especially since all windows are clear, including all the passenger windows. Not too long after the kit's release, AviaDecals produced a set of decals and masks (along with guidelines on how to correct the few, minor flaws in the kit) with different markings. Now we have the penultimate enhancement set for this already decent injected kit.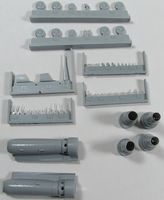 The Small Stuff Tu-134 Detail Set consists of 57 pieces of resin. Those parts include: replacement engines, including all internal parts and superbly molded exhausts, including all vents; replacement tires; a replacement tail "cone" (which I think is the reverse thruster – the part from Small Stuff is hollowed out); and a replacement piece for the fin tip's long antenna, if building that variant. Also included within the resin sets are all sorts of beacons and antennas to be placed on top, on the bottom and on the sides of the aircraft. Pay close attention to the instructions in this phase, because Small Stuff provides not only antenna – and their correct locations – for the "out-of-the-box" Tu-134A and Tu-134B-3, but also for their own conversions, the Tu-134UBL and Tu-134SKh.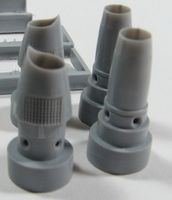 This is a very comprehensive set, one that deserves to be used on all Zvezda 1/144 Tu-134s built. Not only are there excellent, small (very small) antenna that Zvezda missed, but also the replacement parts are top-notch, with molded-in detail that will be difficult to find on injected kits. Very stunning.
Huge thanks to AviaDecals and Small Stuff for sending this set to review.