Internet Modeler : New Releases : Aviation
RSS News Feed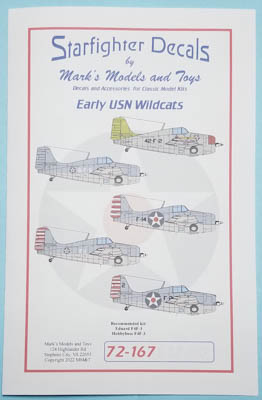 Starfighter Decals 1/72 Early USN Wildcats
Overview
Starfighter Decals is well know for supplying between-the-war - and early WWII - decals in 1/72. They continue that trend with this new release. While there isn't an out-of-the-box accurate F4F-3 yet, these are now available for when the kits are to be released. Hopefully we'll see new tools from Eduard and Arma Models, soon. While the instruction sheet does state these decals are for the Hobbyboss kit, it is not an accurate -3 out-of-the-box and requires a lot of modification to make it so.
The Decals
There are eight aircraft catered for in this release:
F4F-3A, Bu. No. 3916, Ens. Daniels, VF-6
F4F-3A, Bu. No. 3914, Lt. Rawle, VF-6, 1 Feb 1942
F4F-3A, Bu. No. 4031, Lt. E. O'Hare, VF-2, 20 Feb 1942
F4F-3A, Bu. No. 3976, Lt. J.S. Thatch, VF-2, 20 Apr 1942
F4F-3, Bu. No. 2531, Ens. McCuskey, VF-42, 8 May 1942
F4F-3A, F-1, Bu. No. 4031, Lt. Cdr. Paul L. Ramsey, VF-2, May 1942, Battle of Coral Sea
F4F-3, Bu. No. 2527, Chambers Field, NAS Norfolk, Mar 1940
F4F-3, Bu. No. 1848, VF-42, USS Ranger, Dec 1040
All but the last two had the typical Blue Gray upper color and the Light Gray lower color. The last two were Aluminum (Alclad) with yellow wings possible.
Decals appear in register and are very nicely done.
I am looking forward to whomever comes out with a correctly-tooled F4F-3, and hope they include the parts to make the very early Wildcats. Between this release and Starfighter Decals' older Wildcat releases, there are plenty of markings to cover a lot of early Wildcats.
I definitely thank Starfighter Decals for allowing me to review this set of decals.