Internet Modeler : New Releases : Aviation
RSS News Feed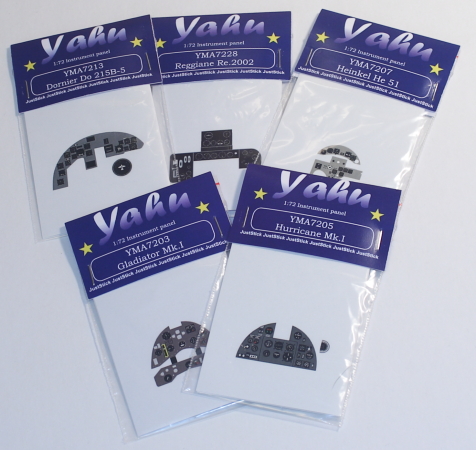 Yahu 1/72 Instrument Panels
When you deal with aftermarket instrument panels, most are usually photoetch lately, and most of those have to be built-up. For example, Eduard provides nice instrument panel in their sets, and even if they are pre-colored, you still have to glue a front-piece to the instrument-containing back-piece. There are also other photoetch manufacturers where you have to also paint the front-piece prior to adding it to the back-piece.
Yahu alleviates all of that with their one-piece, photoetch instrument panels. While there are some you have to bend into the correct shape - and a couple where there are separate parts added to other interior pieces (for example the Hurricane's compass) - the majority of their instrument panels all you have to do is put them in place. Most of them are also pre-colored so there's no painting involved, either.
The only thing I can see you might want to do to these is to add a drop of Future (or other clear) into each instrument bezel, giving the illusion of glass.
| | |
| --- | --- |
| Airfix/Sword/Pavla Gladiator Mk.I | |
| Airfix Hurricane Mk.I | |
| ICM Heinkel He 51 | |
| ICM Dornier Do 215B-5 | |
| Sword Reggiane Re.2002 | |
These are excellent additions to your kit and will really enhance the look of your interior. If you like "stock" cockpits than you might still want to pick these up because they will really make your cockpit stand out.
The only thing I would also want would be photoetch seat belts. With the majority of the kit cockpits out today, the two areas really needing enhancements still are the instrument panels and the seat belts. Yahu has you covered on the instrument panels.
More are being released so be sure to watch their site closely for upcoming releases.
Many, many thanks to Yahu for sending these in for review.