Internet Modeler : New Releases : Book Reviews
RSS News Feed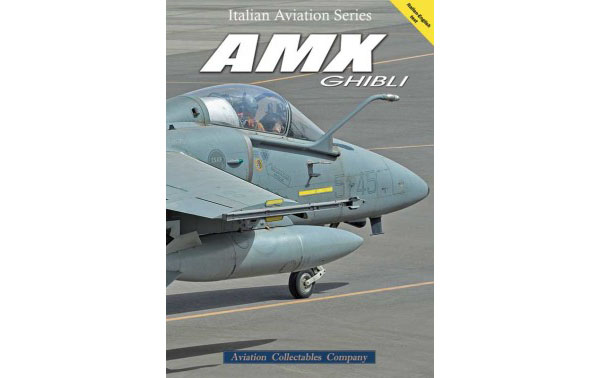 AMX Ghibli
Italian Aviation Series
Authors: Federico Anselmino & Giancarlo Gastaldi
Publisher: Aviation Collectables Company
ISBN: 978-88-90523120
Binding: Softcover
Pages: 64
The AMX Ghibli is an interesting plane. Borne from a need for a low-cost yet solid performing light attack aircraft, the AMX initially was a lackluster design. Through some upgrades and improvements, though, the type proved itself to be quite a capable performer, one which continues to operate in both Italian and Brazilian service. This book in the Italian Aviation Series takes a close look at the AMX Ghibli, from its development through to its operational history, including its performance in combat. There is also a section on modeling the AMX in 1/72 scale.
The book begins with the origins and development of the AMX, and this is an interesting story given the challenges of building the type in the 1980s. This section covers all the ups and downs of the process, from the airframe design to component manufacturing between Aeritalia, Aermacchi, and Embraer, to engine choice and armament options. This section is followed by the AMX ACOL upgrade program, where avionics and other improvements took the AMX to the next level and made it an excellent light attack aircraft.
Following the development period, the book then turns towards the AMX Ghibli's operational history in the Italian Air Force. Italy ordered over one hundred single seater AMXs and around two dozen two seater versions. They operated these aircraft in three squadrons since the late 1980s, and participated in all the major conflicts the Italian Air Force has taken part in since the early 1990s. Currently Italy still flies the AMX Ghibli with one squadron in the light attack reconnaissance role.
Throughout the book are lots and lots of excellent photos that show the AMX Ghibli in all its colorful history. Granted, the colorful history of the AMX is predominantly gray, but there have been several very colorful special schemes and these are presented as well. There are also a handful of color profile illustrations that further add to the color and markings story.
For those interested in Italian aircraft, the AMX Ghibli has often been left behind in the face of other types. That makes this book even more of a welcome addition to a reference library. My thanks to Casemate Publishing for the review copy.