Internet Modeler : New Releases : Book Reviews
RSS News Feed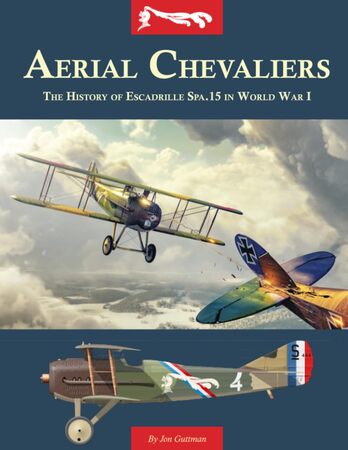 Aerial Chevaliers: The History of Escadrille Spa.15 in World War I
Author: Jon Guttman
Publisher: Aeronaut Books
ISBN: 978-1-953201-84-3
Binding: Softcover
Pages: 97
SPA.15 was one of the oldest French Escadrilles that served in WWI. It actually was formed prior to the war and was initially known as REP.15 as it flew Robert Esnault-Pelterie Type N two-seater monoplanes. Following that it  was then known as N.15, flying Nieuports and ended as SPA.15 flying SPAD XIIIs.
The book is broken out into the following chapters:
Prewar Creation
1914 - Movements to the Marne and Beyond
1915: First Blood
1916: Air Fighting in Earnest
1917: Chevaliers in Joust With Death
1918: "Sans Peur et Sans Reproche"
Postwar Postscript: Some Lives After the Armistice
A Knights-Errant's Wanerings: The Escadrille Since World War I
The book also has the following Appendices:
Escadrille Spa.15 Combat Log
Personnel Konwn to have Flown With Escadrille Spa.15
Spa.15 Personnel who Commanded Other Escadrilles
Spa.15 Pilots Credited with Victories
References
This is an excellent coverage of the history of French Escadrille 15 from its creation into modern times. It will satisfy not only the historian but the modeler as well as there are plenty of color profiles showcasing some of the aircraft flown during Escadrille 15's time during WWI.
Now I need to find a 1/72 kit of the REP Type N. While flown in REP.15 they were finished overall in red. Neat!
I definitely thank Aeronaut Books for sending this book to review. Contact them direct for ordering information.