Internet Modeler : New Releases : Book Reviews
RSS News Feed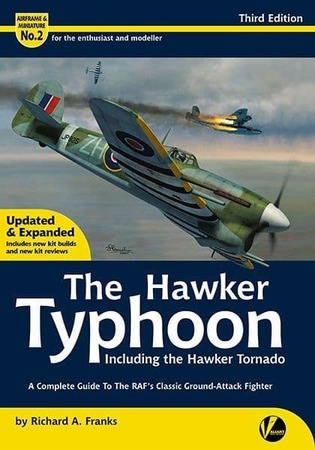 Airframe & Miniature No.2 The Hawker Typhoon
The Hawker Typhoon, including the Hawker Tornado
Airframe & Miniature No.2, Third Edition
Author: Richard A. Franks
Publisher: Valiant Wings
ISBN:978-1-912932-24-5
Binding: Softcover
Pages: 176
Valiant Wings has come out with the third edition of their Hawker Typhoon book. For those who missed this title earlier, here's your third third chance. The modeling world has seen some new kits of the venerable Typhoon since the first edition. The updates reflect these new additions, while maintaining the quality reference section in front.
For those not familiar with the Valiant Wings Airframe & Miniature series, these books combine a detailed overview and technical description of the subject, and combine it with a thorough outline of the subject's portrayal in the modeling realm. The Hawker Typhoon has an extensive history and lots of documentation out there, so the history section should not be expected to be the most comprehensive out there. Still, what is presented is quite useful, with each subtype being described.
Accompanying this are drawings that visually show the differences between the marks. A camouflage & markings section highlights the colorful schemes worn by the Typhoon through the use of color profile illustrations. Finally, in the back of the book are a set of detailed scale drawings that will be of immense use to the modeler.
The modeling section is extensive. The book begins with a section outlining all of the available kits in the major scales. After that are some quality builds of some of the better kits. These include the Academy 1/72 Typhoon Mk. Ib, Airfix 1/72 Typhoon Mk. Ib, Brengun 1/72 Typhoon Mk. Ib (Late Production), Czechmaster 1/72 Typhoon Prototype/Mk.Ia, Hasegawa 1/48 Hawker Typhoon Mk.Ib, MDC 1/32 Typhoon Mk.Ib and the Airfix 1/14 Typhoon Mk.Ib.
Following the builds is a section that shows all the different variants, including prototypes and one-off test aircraft, with callouts identifying the specific changes found on that version. Rounding out the rest of the book are sections providing detail references including close up photos and period drawings, and a comprehensive aftermarket list of both detail accessories and decal sheets.
If you are looking for a single-source book on the Hawker Typhoon, this is one the best to have. It provides all the nuts and bolts you need to build any one of the latest Typhoon kits out there, either out of the box or superdetailed, and given how quickly the first 2 editions sold out, I would not hesitate too long on these. My thanks to Valiant Wings for the review copy.