Internet Modeler : New Releases : Book Reviews
RSS News Feed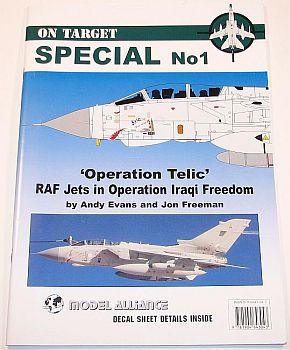 Aviation Workshop On Target Special 1: Operation Telic - RAF Jets in Operation Iraqi Freedom
This series of books from The Aviation Workshop tends to concentrate on a "larger picture" than their Profiles publications.  It could be something as specific as a single ship (in the case of the aviation of the HMS Ark Royal) or as broad as the entire United States Army Aviation Corps from 1919-1941.  In this instance, On Target Special 1 covers some RAF jets used in Operation Telic, or as it's known in the US, Operation Iraqi Freedom.
This On Target Special does contain color profiles, as expected from The Aviation Workshop, but is also contains plenty of color photos to back-up what is shown in the profiles.  Aircraft covered by this Special include:  Tornado GR.4/4a; Harrier xxx; Canberra B(I) and PR.9; Nimrod; and Jaguar xxx. In addition, there is plenty of history to also make this an excellent read on RAF operations during the war.
If you're interested in modeling these aircraft, then by all means also track down Model Alliance's decals to support the book.  I have not seen them, but there are two sheets per scale (1/72 and 1/48). There are a few here I wouldn't mind modeling (even though I usually don't build jets) so I might just have to pick up those decals.
Lots of thanks to The Aviation Workshop for sending this review book.