Internet Modeler : New Releases : Book Reviews
RSS News Feed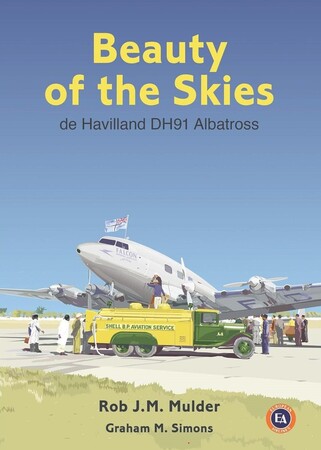 Beauty of the Skies – de Havilland DH91 Albatross
Author: Rob J M Mulder
Publisher: European Airlines
ISBN: ‎ 978-82-93450-16-0
Binding: Hardcover
Pages: 352
An aircraft I consider one of the most beautiful is the de Havilland DH91 Albatross. It has very sleek lines and with the way is constructed, very few panel lines to break up its shape. This release from European Airlines covers the aircraft, and so much more. The book is broken up thusly:
Introduction
The Intercontinental Mail
The Passenger Liner
Imperial Airways Photo Album
The Albatross At War
The book also has the following Appendices:
Technical Data of the Albatross
Weight Sheets
Scale Drawings and Colour Profiles
Advertising the Albatross
Cigarette Cards of the Albatross
A de Havilland DH91 Albatross is still flying!
Sources and Bibliography
Index
While the book covers the aircraft in great detail, it also has histories about British Airways, Imperial Airways as well as the company resulting in their merger: BOAC (British Overseas Airways Corporation).
Because the aircraft was manufactured mostly of wood, it had its problems including one lost to arson. But you can see how the DH91 led to the design of one of de Havilland's most famous aircraft: the Mosquito.
This book is a must if you want to know about the DH91 and the early years of British airline operation. It truly is an inspiration to track down and build a model of this sleek design. Speaking of models, that last Appendix talks about a 1/8 flying RC model.
Modeling-wise I can find information about three models: the 1/72 kit(s) from Valom (only changes between the boxings are the markings); and 1/144 resin kits both from F-RSIN (out of production) and Welsh Models.
Many thanks go to European Airlines for the opportunity to review this stunning book.