Internet Modeler : New Releases : Book Reviews
RSS News Feed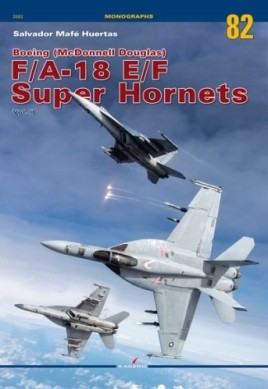 Boeing (McDonnell Douglas) F/A-18E/F Super Hornets Volume 2
Monographs #82
Author: Salvador Mafé Huertas
Publisher: Kagero
ISBN: 978-83-66673-69-4
Binding: Softcover
Pages: 92
The McDonnell Douglas (now Boeing) F/A-18 is one of the most effective multi-role fighter aircraft of the last forty years. Originally designed as a replacement for the A-4 Skyhawk, A-7 Corsair II, and F-4 Phantom II, the F/A-18 was a solid complement to the F-14 Tomcat throughout the late 1980s and 1990s. By the mid-1990s, the F-14 was becoming long in tooth, so there was a push for a replacement. The result of that was the second-generation F/A-18 Hornet, the E/F variant. While the first volume in Kagero's series on the F/A-18 covered those earlier A/B/C/D variants, this second volume focuses on these second-generation Super Hornets.
The book starts out with the origins of the Super Hornet, which was an evolution of the original design. There was an increase in some airframe components such as the lead edge extensions and wing, while the avionics received a major upgrade. The text provides a solid overview of these changes, along with the reasons for the upgrades, before moving into the production of the type. Part of this is a discussion of the EA-18G Growler, the electronic warfare derivative that replaced the EA-6B Prowler. With that variant, the F/A-18E/F Super Hornet replaced all the jet aircraft on US Navy aircraft carriers.
Of course, no Kagero book would be complete without loads of photos, and with the Super Hornet being a 21st Century fighter aircraft you can be assured there's plenty of great high-quality photos out there. This is definitely the case here, as the book is packed with lots of photos of Super Hornets in standard and special color schemes. The Super Hornet is currently operated by Australia and Kuwait as well as the United States, so there's some international schemes covered as well.
This is a decent book on the F/A-18E/F Super Hornet, and when combined with the first volume makes for a nice all-around Hornet reference. My thanks to Casemate for the review copy.