Internet Modeler : New Releases : Book Reviews
RSS News Feed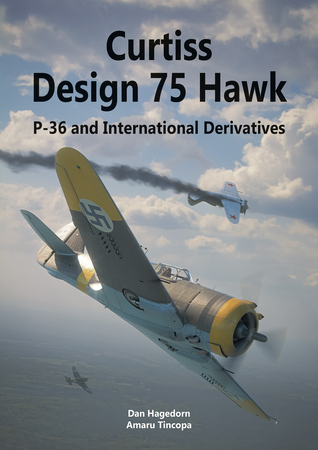 Curtiss Design 75 Hawk: P-36 and International Derivatives
Authors: Dan Hagedorn and Amaru Tincopa
Publisher: European Airlines
ISBN: 978-82-93450-13-9
Binding: Hardcover
Pages: 368
Wow. Simply, wow. If you ever wanted to know about the entire history of the entire line of the Curtiss Hawk 75 series, then this is your book. I have a number of books on the Hawk 75 series because it's a favorite, but when it comes to the history of the type, this is the "bible" on the Hawk 75. Not only narrative but pictures and color profiles as well. The authors have included tables that show every single Hawk 75 and the status through each of their "lives".
The book is broken up into the following chapters:
The Curtiss Design 75, Design 75-B and Y1P-36
Curtiss Hawk Models 75-A, P-75-A, 75-C, 75-D, 75-E, 75-F and 75-G
Those Siamese Hawk 75-N's
Curtiss P-36A and P-36B (Hawk 75-L)
Curtiss Hawk H75-O
Curtiss Hawk H75-R
Curtiss Hawk H75A-1, H75A-2 (?), H72A-3 (sic), H75A-4
British Commonwealth Curtiss Mohawk I, II, III and IV
Curtiss Hawk 75-Q
Those Norwegian Curtiss Hawk H75A-6's
A most unlikely Operator - The German Luftwaffe
Finland's Astonishing Fighter Force
The Netherlands East Indies and the Curtiss Hawk H75A-7
Norway Follows-up with Hawk H75A-8s
The Peruvian P-36G Hawks
Curtiss Hawk H75A-9
And then there were two - or three? A survival footnote
A pilot's view on flying the Curtiss H75A-1 Hawk (G-CCVH)
As you can see in just the chapter list alone, the full breadth of knowledge on this aircraft. The authors scoured the recently-released Curtiss-Wright Corporate Archive at the National Air and Space Museum, Washington D.C. So, a very comprehensive book.
If there's one complaint - and one complaint only - there are no scale drawings of each type of Hawk 75. However, I completely understand. Sitting at 368 pages without drawings, adding them would have pushed the page limit up even more. So maybe it's not a complaint, just a "nice to have". We'll have to look elsewhere for scale drawings, something I don't mind at all (as long as those drawings are accurate).
If you have ANY interest in the Hawk 75 then you really need this book. There are some detail pictures for modelers but overall the history presented in this book is phenomenal. Do yourself a favor and pick up this title. You will not regret it.
Huge, huge thanks to European Airlines for giving me the honor to review this book.