Internet Modeler : New Releases : Book Reviews
RSS News Feed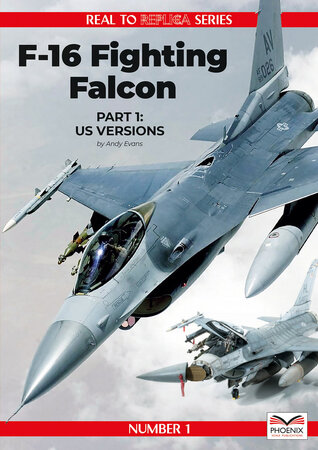 F-16 Fighting Falcon Part 1: US Versions
Author: Andy Evans
Publisher: Phoenix Scale Publications
ISBN: ‎ 978-1-7397725-0-5
Binding: Softcover
Pages: 140
While the book has been out a few months, in general new-to-the-modeling-scene Phoenix Scale Publications has a new series they call "Real To Replica". In it, they first concentrate on the actual use of the subject (this one being the F-16) then follow up with a few model builds of that subject. A decent premise, showing how what's presented in the front of the book can be used for models in the back of the book.
The first subject for this Real To Replica Series is - as mentioned - the F-16. This book is just Part 1: US Versions with the second part, International Versions, released a short time ago. The first part of the book, "Real", is broken out thusly:
Falcon's Nest - The Origins of the F-16
Falcon's Feathers - The F-16 in Detail
Falcon's Flight - F-16 Blocks
Fighting Falcons - F-16 Aggressors
Falcon's Talons - F-16 in Service
Other Falcon Variants
Coluor Side Profiles
Walk Around
Appendices
Technical Diagrams
F-16 Specifications
F-16 Gallery
F-16 Units
The second main section of the book - "Replica" - is where the model builds are. There is one 1/72 build and four 1/48 builds. Why the publishers couldn't have had more scale diversity I'll never know. There are more than just 1/48 F-16 models out there; in fact, there are really nice 1/144 kits by Revell and Trumpeter. Plus, Tamiya makes a beautiful 1/32 F-16C kit that builds into a great model. That's definitely my concern with this section is the concentration of 1/48 kits when there are other scales out there.
Overall this is a very nice book with excellent pictures - and more importantly, picture quality - of a multitude of F-16s. Aside from my concern with the "Replica" section, my other concern with this book is a lack of actually showing - via pictures or, better yet, drawings - of what each Block's differences were. When were the strenghening plates added and where were they placed, and which Block saw their first use? That type of thing. It's explained in the text, sure, but as the saying goes "a picture is worth a thousand words". Speaking of the words, there are a lot of grammatical errors and their Glossary of Terms is far from complete, and also contains grammatical errors. One that consistently made itself known to me was "LANTIRN": right out of the bat, in the Glossary of Terms (on the first page of the book) it's mis-typed as "LANTRIN". In fact, there are more places throughout the text that "LANTRIN" raises its ugly head. This seems par for the course for Phoenix Scale Productions, though, and hopefully they will focus on that in the future.
I did like this book, though, and think it's worth tracking down. I see Phoenix Scale Publications are on their second printing of this book which is a good sign it's selling, hopefully convincing them to produce more books in this series. But I also hope they decide to showcase more than just 1/48 builds as there are a lot of other scales out there and give their texts a closer look on the grammar & spelling.
My thanks to Phoenix Scale Publications for sending this book to review. I look forward to more from them in the future.