Internet Modeler : New Releases : Book Reviews
RSS News Feed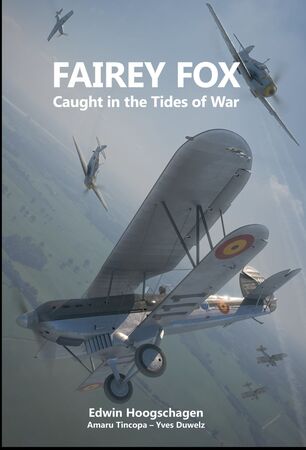 Fairey Fox – Caught in the Tides of War
Author: Edwin Hoogschagen
Publisher: European Airlines
ISBN: ‎ 978-82-93450-14-6
Binding: Hardcover
Pages: 120
The Fairey Fox - an elegant design - was unfortunately not used in great numbers by the RAF but it found favor with the Belgians. Indeed, they created around 200 examples of this biplane in multiple subversions.
In the markings of Belgium it actually saw action during the opening years of WWII, in fact one Fox claming a Bf 109 shot down. Impressive for such an outdated machine.
The Fairey Fox also saw service under Swiss and Peruvian colors, it was with Peru for the last, with three examples being flown into the end of 1944.
This book provides an excellent history of this aircraft, naturally the largest section deals with the Belgian Fox. In addition, the modeler will like this title since the book provides 15 color profiles. My only complaint is the lack of scale drawings, but don't let that sway you from picking up this title.
Unfortunately the type isn't well served by the model companies. Pegasus released a 1/72 Fox Mk.I way back in 1989 and Dujin released a couple of marks as well. The non-RAF types are better served by Omega Models in 1/72, having released no less than eight subtypes in resin. It also appears Vami released kits of the Fox in 1/72 but not much is known about them. In 1/48 the only known kit is of the Mk.IIM/III by Modelism.
I definitely send plenty of "thanks" to European Airlines for sending this to review. If you have any interest in between-the-wars aircraft, or the Fairey Fox specifially, definitely pick up this book.