Internet Modeler : New Releases : Book Reviews
RSS News Feed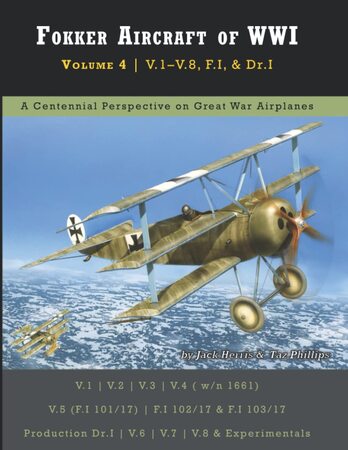 Fokker Aircraft of WWI: Volume 4 | V.1–V.8, F.I, & Dr.I
Author: Jack Herris & Taz Phillips
Publisher: Aeronaut Books
ISBN: ‎ 978-1-953201-08-9
Binding: Softcover
Pages: 160
Aeronaut Books has been producing a series of books on aircraft built and flown by Fokker, well known for their Dr.I Triplane and D.VII. This release is on the series of aircraft that lead up to the development and production of the famous Fokker Triplane.
After the near-disaster of their eary biplanes, Anthony Fokker began to look into a better wing to put onto his aircraft. This was of a cantilever design and first started out being wood-covered, but in the end the weight was too much so starting with the V.4 the wing was covered with fabric.
Most people know about the famous Fokker Dr.I Triplane. This book tells about the experimental development that led up to its design. The book doesn't go into depth about its use during the war, but technical details on what lead up to its design and production.
All-in-all it's a very good book about Fokker's thinking moving forward with his designs.
Naturally there are plenty of models of the Fokker Dr.I (and the two prototype F.Is), but the other designs in this book aren't well-served in the modeling world, so scratch-building is what will be needed. Thankfully there are drawings of each type to help with this endeavor.
Many thanks go to Aeronaut Books for sending this to review. Contact them direct for ordering information.