Internet Modeler : New Releases : Book Reviews
RSS News Feed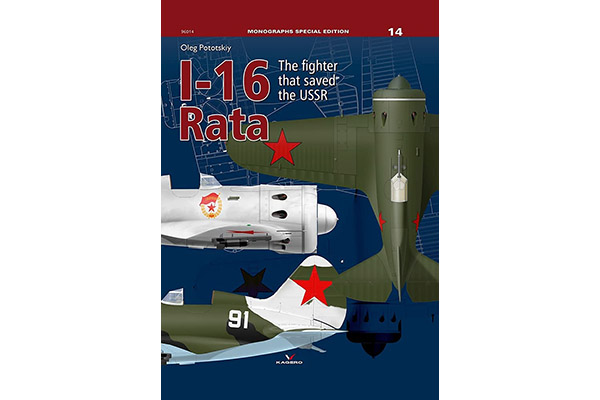 I-16 Rata: The Fighter That Saved the USSR
Author: Oleg Pototskiy
Publisher: Kagero
ISBN: 978-83-66673-50-2

Binding: Softcover
Pages: 180
The story of the Polikarpov I-16 is not as simple as some might think, but to tell the whole story is a daunting task. The author of this latest title from Kagero recognizes this, and notes that to tell that complete history would take multiple volumes. As such, this book at best will only cover the broad strokes yet will still try to deal with as much about the I-16 as possible. With so little in the English language on both Polikarpov and the I-16, this book is definitely a very welcome addition.
The I-16 did not spring complete from a vacuum, so to truly understand the Rata, one needs to understand how Polikarpov got to where he was. The evolution of the aviation industry in the Soviet Union is a fascinating history in and of itself, and could easily form a multi-volume standalone series, so the author settled for a brief overview of the topic to start this book. Of course, Polikarpov was involved from the beginning, and this section covers both his evolution as a designer and his appreciation of German aviation engineering, especially with regards to metal aircraft construction. Other influences are described as the author moves through Polikarpov's designs throughout the 1920s and 30s. In fact, it is not until page 50 that we finally get to the I-16.
The rest of the book focuses on the I-16 in all aspects, from the engine choices to construction techniques and armament options. The I-16 in its earliest form was small, lightweight, and minimally armed, which made it a nimble performer. As combat experience arose, first in Spain and later in Russia, more powerful armament and bigger engines were necessary, but the I-16 kept most of its nimbleness, making it a challenging fighter in the hands of a skilled pilot. This is covered well in the text, but understandably briefly as the combat history of the I-16 is easily a book in and of itself.
Complementing the well-written text are copious amounts of photographs showing all aspects of the I-16, including construction and combat. A nice selection of color profile illustrations also help highlight the diverse schemes worn by the type. Additionally, there are sixteen pages of scale drawings in both 1/72 and 1/48 scales, documenting all the different variants of production I-16s.
For those looking for a good introduction to the Polikarpov I-16, this is a perfect book to fit that bill. My thanks to Casemate Publishers for the review copy.