Internet Modeler : New Releases : Book Reviews
RSS News Feed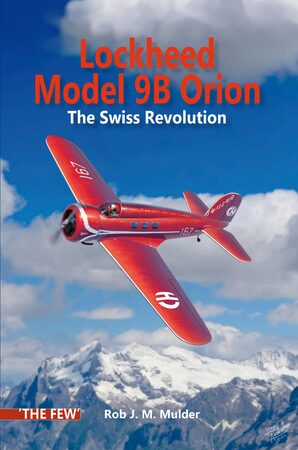 Lockheed Model 9B Orion - The Swiss Revolution
Author: Rob J.M. Mulder
Publisher: European Airlines
ISBN: ‎ 978-82-93450-15-3
Binding: Hardcover
Pages: 120
The Lockheed Model 9 Orion was a series of expertly designed aircraft that were primarily used by commerical airlines. It was the first commercial airliner to have a retractable undercarriage and was actually faster than most military aircraft of that time. It was a very beautiful design and saw favor with most who flew her.
The Swiss - after the creation of their national airline - decided they wanted a faster way to travel between cities so purchased two Model 9Bs. They both were used extensively for a few years until something faster came along, carrying more passengers. The Swiss Model 9Bs could only carry four passengers while the first to replace the Orions - the Clark GA-43-A - could carry ten and was just as fast as the Orions.
The book is broken out thusly:
Introduction
The Start of Swissair
Technical Description
The Swiss Revolution
It also contains the following Appendixes:
Cutaway Lockheed Model 9B Orion
Colour Profiles
Bibloiography
Index
Because the life-span of the Swiss operating the Model 9Bs was short, the book does an excellent job of describing the start of Swiss civil aviation along with the continuation after the Orions were sold. In addition, there's a very nice walk-around section with color photos of the Model 9C the Swiss restored into a represenation of the 9B.
Unfortunately there is no way to model the 9B "out of the box". In 1/72 Special Hobby came out with the 9D in 1/72, but to make the Swiss 9B you'll need to fill in a passenger window on each side as it flew with only three passenger windows per side. If you're truly pedantic, you'll also need to replace the engine as the 9B flew with a 575 hp (429 kW) Wright R-1820-E engine. Plus, you'll need to source the Swissair decals. It appears Special Hobby did re-release their kit in a "Classic Plane" series with the Swissair decals, but I've read the decals aren't that great. Since the markings are all-white, maybe masking would be the way to go.
This is a superlative book on a beautiful aircraft that not only discusses the history of the Model 9B Orion, but also the history of Swissair. Highly recommended.
I definitely say "thank you" to European Airlines for sending this excellent book to review.