Internet Modeler : New Releases : Book Reviews
RSS News Feed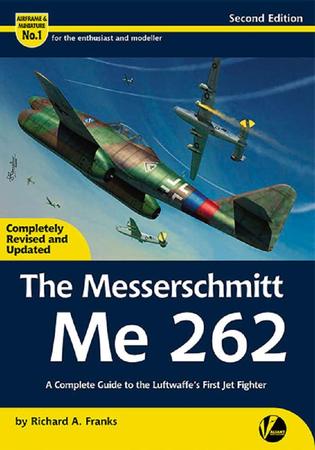 Messerschmitt Me 262: A Complete Guide to the Luftwaffe's First Jet Fighter Second Edition
Author: Richard A Franks
Publisher: Valiant Wings Publishing
ISBN: 978-1-912932-15-3
Binding: Softcover
Pages: 208
Wow, the first edition was published back in 2010. Valiant Wings Publishing has definitely come a long way since then. As this is the Second Edition of this book, see my original review for what the book contains. This second edition adds another 96 pages and includes updates to the kit selection (including kits that were released post-2010), updates to some of the profiles and their captions, a pull-out 1/48 set of plans, etc.
Another difference from the first edition is with the models built for this publication. While we still don't have any builds of the 1/144 Eduard/Mark I or Trumpeter kits, all builds in the second edition are brand new. The first edition had five builds: Hasegawa 1/72 Me 262B, Revell 1/72 Me 262A-1a/U3, Hobby Boss 1/48 Me 262A-1a/U4, Tamiya 1/48 Me 262A-2a with Kettenkraftrad, and the Trumpeter 1/32 Me 262B-1a/U1. The new builds in this second edition are the Airfix 1/72 Me 262B-1a/U1, HobbyBoss 1/48 Me 262A-2a/U2 and Revell 1/32 Me 262B-1/U-1. It's understandable the new edition would concentrate on the newer-released kits and while I always comment on the lack of 1/144 builds, Valiant Wings Publishing has gotten better about listing most of the kits and aftermarket available in their Appendices, regardless of scale. Even so, they completely missed all the aftermarket RetrokiT has released for the 1/144 kits. Looks like they also missed the Brengun cockpit detail set and replacement canopy, too.

Even with these misses, this is still, definitely THE title to acquire for building an Me 262.
I definitely thank Valiant Wings Publishing for sending this to review.