Internet Modeler : New Releases : Book Reviews
RSS News Feed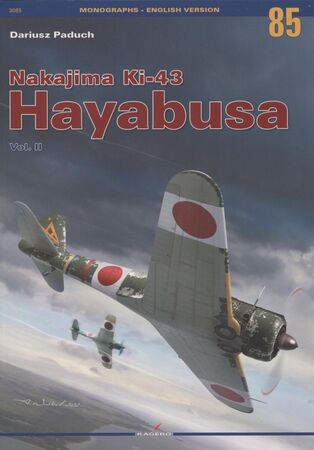 Nakajima Ki-43 Hayabusa Vol.II
Author: Dariusz Paduch
Publisher: Kagero
ISBN: 978-83-66673-93-9
Binding: Softcover
Pages: 80
This is Kagero's second monograph on the Nakajima Ki-43. Volume I is devoted to the plane's technical aspects and developmental history. In Volume II author Dariusz Paduch briefly discusses the Imperial Japanese Army Air Service's organizational structure and then covers the Hayabusa's combat history, starting with Malaya and Singapore (1941-1942) and ending with Foreign use of the Ki-43 in July of 1949. There are great air-to-air photographs plus numerous shots of abandoned planes. These pictures will be useful to modelers and there are 7 color profiles to complete the book.
The Ki-43 was able to give a decent account of itself in the hands of skilled pilots, but lack of sufficient firepower doomed the plane and sealed its eventual replacement by the cannon armed Ki-44 and Ki-84 which followed the Hayabusa into IJAAF service.
If you're looking for more information on the Ki-43's operational history Kagero's second monograph is a great place to start; particularly if you're looking for period photographs of some of the Hayabusa's more interesting and complex camouflage patterns.
I recommend this book and I would like to thank Kagero for review sample.