Internet Modeler : New Releases : Book Reviews
RSS News Feed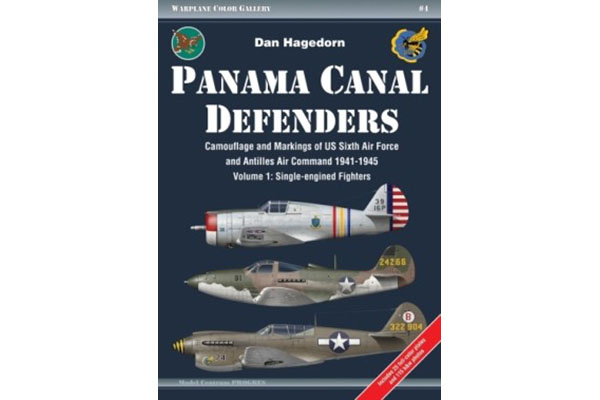 Panama Canal Defenders
Author: Dan Hagedorn
Publisher: Model Centrum
ISBN: 978-83-60672-34-1
Binding: Softcover
Pages: 64
While the Second World War was dominated by news in Europe or the Pacific, there were other theaters that had their own levels of interaction with the war. One major region that needed air support was the Panama Canal, as keeping that canal open made a huge difference in transport between the Pacific and Atlantic. The US Sixth Air Force was tasked with that region and this new title from Model Centrum is the first in a series that will undoubtedly be a valuable reference on this lesser-known region.
The author, Dan Hagedorn, is very well known in the realm of Latin American aviation research, and those skills show up in this title. The book covers the camouflage and markings of the Sixth Air Force as well as the Antilles Air Command between 1941 and 1945, specifically focusing on single-engined fighters. With that narrow scope, it's no surprise that the book is broken down by type, specifically covering the Boeing P-26 Peashooter, Curtiss P-36 Hawk, Bell P-39 Airacobra, and Curtiss P-40 Warhawk.
Each aircraft has a fairly decent overview history of the type in theater, which is then complemented by the extensive photographic collection presented. The combination of the two should be more than enough to whet the modeler's appetite as both offer some great stories and visuals. For some (like the P-39), there's some interesting personal markings for individual aircraft, and across the board the camouflages add even more flair. Rounding out the book and further adding to the overall appeal of the book are a selection of color profiles that highlight several of the more interesting planes seen in the photographic record (such as a P-26 with pinup artwork).
For those interested in US aircraft of the Second World War, but from lesser-known theaters, this is a must-have book. The author clearly knows the subject and it shows. Coupled with the great photos presented and the color profile options, the result is a book well worth having. My thanks to Casemate for the review copy. Visit their website for more information.