Internet Modeler : New Releases : Book Reviews
RSS News Feed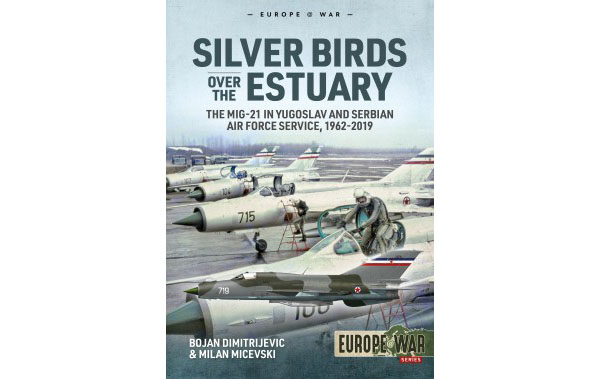 Silver Birds Over The Estuary: The MiG-21 in Yugoslav and Serbian Air Force Service, 1962-2019
Europe @ War Series
Authors: Bojan Dimitrijevic & Milan Micevski
Publisher: Helion & Company
ISBN: 978-1-913118-69-3

Binding: Softcover
Pages: 72
The Mikoyan Gurevich MiG-21 was the leading supersonic fighter exported from the Soviet Union, and it found its way into the service of a great many air forces around the world. The MiG-21 proved popular with the air force of Yugoslavia (and later Serbia), with the country flying just about every variant of the MiG-21, and operated the type for over 50 years. This book documents the MiG-21 over Yugoslavia in detail, both through text and visual materials.
The Yugoslav Air Force received their first MiG-21F-13s in 1962 as a replacement for the F-86E & F-86D Sabres, so it was quite a step up compared to those two planes. These were soon followed by the improved MiG-21PFM in 1967, along with the MiG-21R reconnaissance variant in 1968. At the same time, the Yugoslav Air Force also received the MiG-21U in 1965 as a supersonic trainer.
The next upgrade for the Yugoslav Air Force came in the form of the MiG-21M and MiG-21MF, which arrived in 1970 and 1975, respectively. Once again, these provided a step up in technology for the Yugoslav Air Force, but more was yet to come with the ultimate MiG-21 variant, the MiG-21bis. The MiG-21bis arrived in 1977 along with the MiG-21UM improved two-seat trainer. While most of the MiG-21s were retired by the late 1990s, the MiG-21bis and MiG-21UM remained in service for much longer, with the MiG-21bis finally retiring in 2015 and the MiG-21UM still in use in limited numbers.
While the text does a great job documenting the acquisition and operation of the MiG-21 by the Yugoslav Air Force, for me it's the photos and drawings that really set things apart. In addition to the expected black and white photo coverage, this book also includes quite a few period color photos, showing these planes in all their glory. The color profile illustrations also showcase the evolution of colors and markings of the MiG-21 over Yugoslavia.
For anyone interested in the MiG-21, or interested in Yugoslav aviation, this is definitely a book worth having. My thanks to Casemate for the review copy.