Internet Modeler : New Releases : Book Reviews
RSS News Feed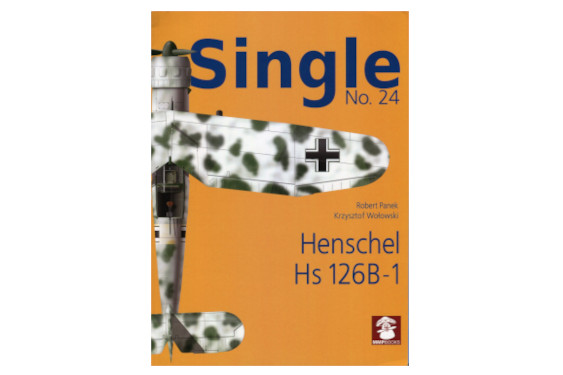 Single No. 24 Henschel Hs 126B-1
Authors: Robert Panek and Kyzysztof Wołowski
Publisher: MMP Books
ISBN: 978-83-66549-16-6
Cover: softcover
Pages: 24
This new monograph in MMP Books' Single series is devoted to the Henschel Hs 126, a Second World War 2-seat Luftwaffe reconnaissance and observation parasol wing airplane that was well liked for its short takeoff and landing characteristics.
This is a useful and concise book. It includes 1/72nd and 1/48th scale plans, some useful Wartime "in action" detail shots and quite a few Technical Manual drawings, with close-up views of the front and rear cockpits, fuselage structure, the wing structure, etc. You also get 3 color photographs of a preserved BMW 132 radial engine and some close-up shots of the MG 15 guns, 2 full color illustrations of the instrument panel and color profiles of a single, colorful aircraft, "6K + EH", 1. (H)/23, Russia 1941/42. This colorful plane was RLM 70/71/65 with washable white distemper paint over the upper surfaces.
This is my first review of one of MMP Books' Single books and I quite like it. I wish that the book provided a minimal overview and history of the plane because if like me, you know nothing about the plane (dimensions, performance, equipment) you will need to look elsewhere to learn more. But if your goal is simply to increase the accuracy of the 1/72nd or 1/48th scale kit that you have on hand you'll find much of what you need between the covers of this book. I recommend it and I would like to thank MMP Books for the review sample.
References
Wikipedia: