Internet Modeler : New Releases : Book Reviews
RSS News Feed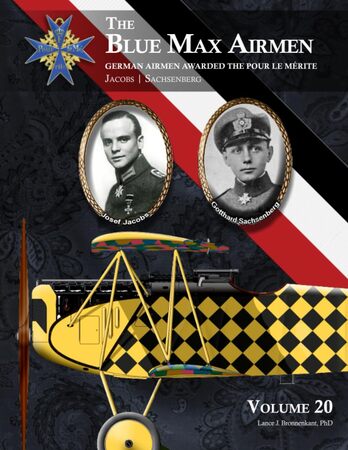 The Blue Max Airmen; German Airmen Awarded the Pour le Mérite: Volume 20, Jacobs & Sachsenberg
Author: Lance J. Bronnenkant, PhD
Publisher: Aeronaut Books
ISBN: 978-1-953201-73-7
Binding: Softcover
Pages: 124
While this is my first review of Aeronaut Books' titles on German aviators awarded the "Blue Max", it's actually my second book of the series. These books are detailed accounts - some more than others - on the German pilots that were awards the Pour le Mérite. There were 81 pilots that received the distinction and Aeronaut Books is covering them in chronological order of the pilots whom actually received the award.
The book is broken out thusly:
Josef Jacobs
Gotthard Sachsenberg
Pour le Mérite Winners by Date of Award
Pour le Mérite Winners Alphabetically
Index
Glossary
German and French Naval Terms
Bibliography
My "favorite" German ace of WWI is Josef Jacobs, mainly because of his all-black later aircraft, and his personal air in his photographs. He's normally smiling and doesn't appear to take life too seriously. But he was an excellent flier and of his 48 "kills", most were in his Triplanes and he was the leading German Triplane ace; he personally had three triplanes.
Sachsenberg was an ace I wasn't too familiar with. He flew in the naval arm of the German air service and his Fokker E.V is probably one of the best known E.Vs with Sachensberg's yellow-and-black diamonds all over the fuselage.
Overall it's an excellent treatise on these two aces but personally I wish there was more on Jacobs. However, I do have to complain about one layout aspect of the book. In the middle of the section dealing with Jacobs' aircraft is inserted his "kill" table. This should have been put at the end of the aircraft section, like the book has for Sachsenberg. It's an annoying distraction.
My thanks goes to Aeronaut Books for sending this book for review. Contact them direct for ordering information.