Internet Modeler : New Releases : Book Reviews
RSS News Feed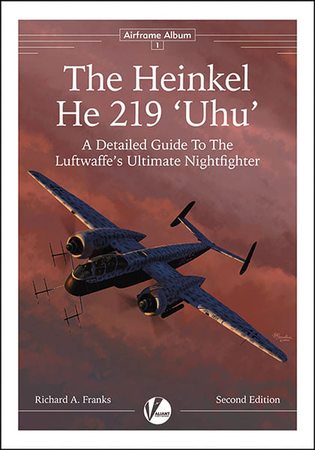 The Heinkel He 219 'Uhu': A Detailed Guide To The Luftwaffe's Ultimate Nightfighter
Author: Richard A Franks
Publisher: Valiant Wings Publishing
ISBN: 978-1-912932-18-4
Binding: Softcover
Pages: 146
Another re-print from Valiant Wings Publishing, this time taking the page count from 98 to 146. Wow! Additions include a larger kit section, since more kits have been released; more color profiles; more archival pictures; etc.
The book is broken up into the following chapters:
Technical Description
Evolution - Prototype, Production and Projected Variants
Camouflage & Markings
Building The Uhu
There are also the following Appendices:
He 219 Kit List
He 219 Accessory & Mask List
He 219 Decal List
Bibliography
This time around the builds presented are the 1/72 Dragon kit by Libor Jekl and the 1/48 Tamiya kit by Steve Evans. No builds of the 1/144 Mark I kit, although the kits are listed in the first Appendix.
An excellent book, one an He 219 modeler must have.
My thanks to Valiant Wings Publishing for sending this review copy.