Internet Modeler : New Releases : Book Reviews
RSS News Feed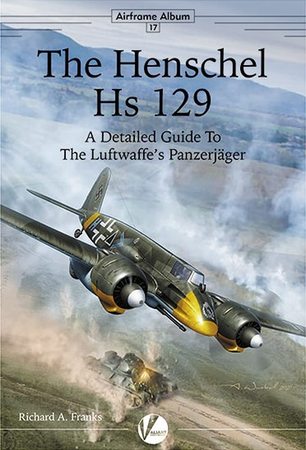 The Henschel Hs 129: A Detailed Guide To The Luftwaffe's Panzerjäger
Author: Richard A. Franks
Publisher: Valiant Wings Publishing
ISBN #: 978-1-912932-16-0
Binding: Softcover
Pages: 130
During the Spanish Civil War the Luftwaffe saw a reason for a faster attack aircraft (Schlachtflugzeug) so put out the request for a new aircraft, and the Henschel Hs 129 was born. The first version - the 'A' - wasn't very well powered so after adding Ghome-Rhône 14M engines the 'B' variant was created. This book from Valiant Wings Publishing covers all variants and more.
The book is divided into the following sections:
Technical Description
Evolution - Prototype, Production and Projected Variants
Camouflage & Markings
Models
This last section has two builds of the 1/48 Hasegawa and the 1/32 Zoukei-Mura kits. Finally, the last section of the book has three Appendices: I Hs 129 Kit List; II Accessories, Decals and Masks; and III Bibliography.
If you have any interest in the Henschel Hs 129 from either a historical or modeling perspective, this book, I feel, is a must.
I definitely thank Valiant Wings Publishing for sending this book to review.