Internet Modeler : New Releases : Book Reviews
RSS News Feed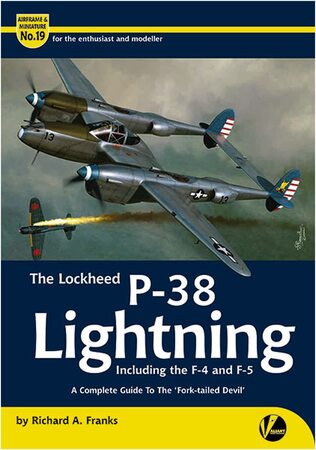 The Lockheed P-38 Lightining Including the F-4 & F-5: A Complete Guide To The 'Fork-tailed Devil'
Author: Richard A Franks
Publisher: Valiant Wings Publishing
ISBN: 978-1-912932-27-6
Binding: Softcover
Pages: 256
Valiant Wings Publishing turns their sights on the Lockheed P-38, and they do an admirable job. There are plenty of photographs, diagrams and drawings to suffer the most detail-oriented modeler. Truly a feast for the 'fork-tailed' aficionado.
The book is broken up into the following chapters:
Airframe Chapters
P-38 Prototypes & Production
Photo-Reconnaissance, Night-Fighters, 'Droop Snoots' & Pathfinders
One-Offs & Projects
Camouflage & Markings and Colour Profiles
Miniature Chapters
Lockheed Lightning Kits
Building a Selection
Building a Collection
In Detail: The P-38 and F-4/F-5
Appendices
Lightning Kits
Lightning Accessories & Masks
Lightning Decals
Bibliography
There are also 1/48 fold-out plans in the back of the book. An excellent book, one a P-38 modeler must have.
One of the selling aspects of the Airframe & Miniature line is the model builds presented in the book, and this one definitely includes those. In 1/48 we're treated to a build of the older Hasegawa kit and the newer Tamiya kit. In 1/72 there are builds of the Hobby 2000 (which is actually the Dragon kit) and the Anigrand XP-58 "Chained Lightning". 1/32 and 1/144 are not represented at all. What I can't understand is while there is a build of the the best 1/48 kit on the market - Tamiya - as well as the Hasegawa kit (but no Academy), we're treated to the sub-standard Dragon kit instead of the better, newer Academy in 1/72. RS Models has released a slew of various P-38 types in 1/72 and there aren't any builds of those, instead we have a build of the one-off XP-58, of which the kit is resin and, reading the text, quite the chore to build.
My thanks to Valiant Wings Publishing for sending this review copy.