Internet Modeler : New Releases : Book Reviews
RSS News Feed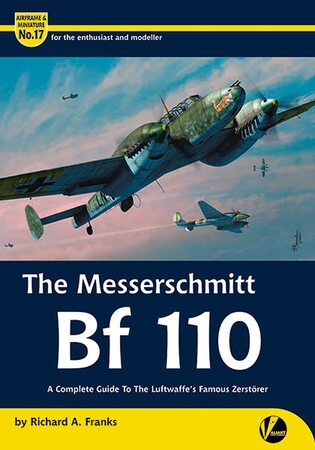 The Messerschmitt Bf-110: A Complete To The Luftwaffe's Famous Zerstörer
Author: Richard A Franks
Publisher: Valiant Wings Publishing
ISBN: 978-1-912932-22-7
Binding: Softcover
Pages: 256
Valiant Wings Publishing turns their sights on the Messerschmitt Bf 110, and they do an admiral job. There are plenty of photographs, diagrams and drawings to suffer the most detail-oriented modeler. Truly a feast for the Bf 110 aficionado.
The book is broken up into the following chapters:
Airframe Chapters
Evolution - Prototypes, Bf 110A-0 & B Series
Evolution - Bf 110C & D Series
Evolution - Bf 110E & F Series
Evolution - Bf 110G & H Series
Camouflage & Markings and Colour Profiles
Miniature Chapters
Bf 110 Kits
Building a Selection
Building a Collection
In Detail: The Bf 110
Appendices
Bf 110 Kits
Bf 110 Accessories
Bf 110 Decals
Bibliography
There are also 1/48 fold-out plans in the back of the book. An excellent book, one a Bf 110 modeler must have.
My thanks to Valiant Wings Publishing for sending this review copy.