Internet Modeler : New Releases : Book Reviews
RSS News Feed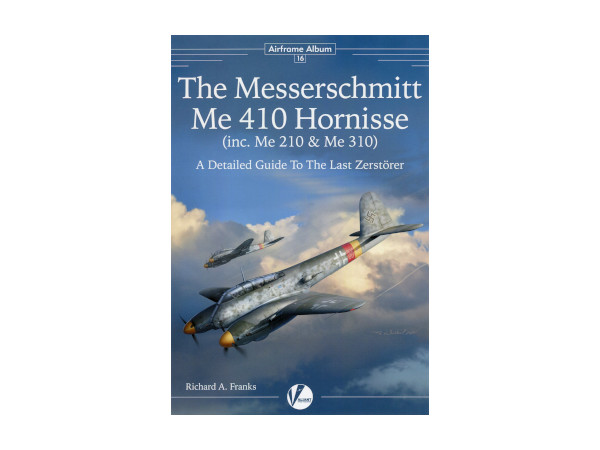 The Messerschmitt Me 410 Hornisse
Author: Richard A. Franks
Publisher: Valiant Wings Publishing
ISBN: 978-1-91293-213-9
Cover: softcover
Pages: 160
Valiant Wings' exciting new book covers the development and history of the Messerschmitt Me 210, 310 and 410 Hornisse, the so-called "Last Zerstörer." This is the 16th volume in the Airframe Album series. Author Richard Franks devotes 5 chapters to the German twin engine heavy fighter. The Me 210 was intended to supersede the Bf110 in Luftwaffe service but due to numerous technical problems it was unsuccessful and was withdrawn in 1942. The Me 310 was a proposed high altitude fighter with a pressurized cockpit but it never advacned beyond the concept stage. The Me 410 entered service in 1943. It retained the lengthened fuselage of the late Me 210 in addition to larger engine nacelles to accommodate the Daimler-Benz DB 603 inverted V-12. The Me 410 was relatively successful against the massed Allied bombers ranging over the Reich in 1943, but like the Bf110 it was vulnerable to the Allied escort fighters and was subsequently withdrawn from service in the summer of 1944.
The book is full of period photographs and Technical Manual drawings of the cockpit, fuselage, armament, etc. The drawings are interspersed with contemporary pictures of W.Nr.420430, one of only 2 surviving Me 410s. These pictures and the drawings will prove very useful for detailing your model. There is also a guide to camouflage and markings, color profiles, a model kit and accessories listing and a great build of the 1/48th scale Meng Me 410 by noted modeler Steve Evans.
This is a useful guide to the developmental and service history of the Messerschmitt Me 210/ 410 increasing the accuracy of your Messerschmitt Me 210 and 410. There are good kits in the popular 1/72nd and 1/48th scales from Fine Molds, Monogram and Meng. I recommend this book and I would like to thank Valiant Wings Publishing for the review sample.