Internet Modeler : New Releases : Book Reviews
RSS News Feed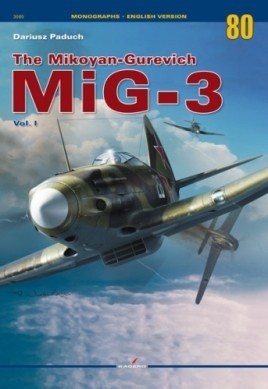 The Mikoyan-Gurevich MiG-3 Vol. 1
Monographs #80
Author: Dariusz Paduch
Publisher: Kagero
ISBN: 978-83-66673-71-7
Binding: Softcover
Pages: 72
The story of the Mikoyan-Gurevich MiG-3 is an interesting one, as it came about at the transition from biplane fighters to monoplane fighters. Because of this, the story of its origins and development is more complex than other fighters of the Second World War. With the rapid evolution of aviation during the 1930s, trying to develop a frontline fighter was not an easy task but in the Soviet Union this was made a bit easier by a fair amount of cross-company information exchanging. While this made things easier to develop aircraft, it makes it more challenging for historians to document the history of aircraft, and we see that with this series from Kagero on the MiG-3.
Spread across multiple volumes, this first volume actually talks very little about the MiG-3 and instead focuses heavily on those early developmental years and the various research and development done by Mikoyan, Ilyushin, Polikarpov, and others. The evolution of fighter aircraft is covered as it relates to the MiG-3, with this book culminating in the I-200, the experimental prototype that ultimately evolved into the MiG-3. A large part of the challenge here was the adoption of the inline engine as opposed to a radial engine, and this book does a good job of highlighting the challenges that change brought about.
In addition to the text, the book has plenty of photos showing all the varied designs that led up to the I-200 and MiG-3. As much of these were prototypes and test subjects, the photos tend to be of a better quality as they were done by the factory and with a purpose. Detail photos show the engine installment and some other interior bits, while as a bit of an add-on bonus there are a handful of color profile illustrations of operational MiG-3s (even though this first volume hasn't arrived at that operational history yet).
As you might have guessed, this book is not a good stand-alone reference on the MiG-3, but part of a larger whole. Given the long history of the MiG-3, this is understandable, but plan on picking up the follow-on volumes as they come out. My thanks to Casemate for the review copy.