Internet Modeler : New Releases : Book Reviews
RSS News Feed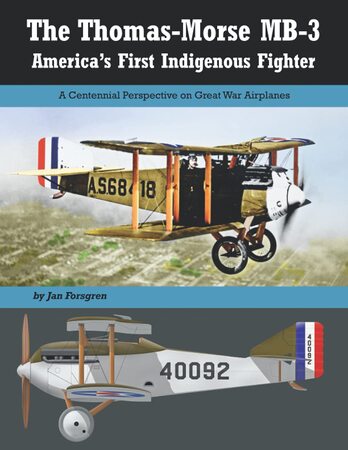 The Thomas-Morse MB-3: America's First Indigenous Fighter
Author: Jans Forsgren
Publisher: Aeronaut Books
ISBN: ‎ 978-1-953201-23-2
Binding: Softcover
Pages: 86
During WWI the United States had no fighter aircraft of their own, relying on using those from other nations. It wasn't until towards the end of the war that US-based manufacturers started to create designs, and it wasn't until February 1919 the first MB-3 was flown.
It's unfortunate that, for the most part, the aircraft has been lost to history. Thankfully this title eliminates that and does it well. Not only does it provide a history of early Thomas-Morse designs, but it also shows the progression of the MB-3 into the MB-3A. It also provides a history of the type being "dressed up" and used in the Hollywood movie, Wings. There are drawings and color profiles provided rounding out the title.
In an unusual twist, Boeing actually won the contract to mass produce the Thomas-Morse MB-3, under-bidding Thomas-Morse by quite a lot. They ended up making a few changes making their release the MB-3A.
Unfortunately there was only one model produced of this aircraft, the 1/72 vaccuum-formed kit from Sierra Scale Models released in 1998, long out-of-production. If anyone knows of any I'm definitely looking for at least one - maybe two - so please email me.
I definitely thank Aeronaut Books for sending this review copy. Contact them direct for ordering information.