Internet Modeler : New Releases : Book Reviews
RSS News Feed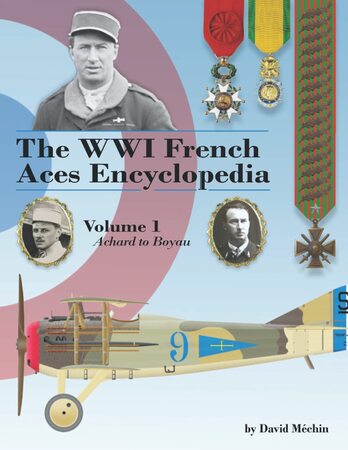 The WWI French Aces Encyclopedia: Volume 1: Achard to Boyau
Author: David Méchin
Publisher: Aeronaut Books
ISBN: ‎ 978-1-953201-30-0
Binding: Softcover
Pages: 224
Aeronaut Books has been known for publishing a lot of books on WWI Aviation, but in the past, mostly on German aircraft and their make-up. While I do have some of those books, I have been hopeful that we will see French aircraft be taken up by them. Thankfully now we have. In the past they released a disappointing book on the Morane Saulnier Type AI, which also contained lesser-known prototypes, but thankfully Aeronaut Books has redeemed themselves. And by quite a bit, I might say.
There are eight volumes in this series, The French WWI Aces Encyclopedia, broken up by the aces' names, in alphabetical order (with exceptions in Volume 8, which will be reviewed at a later date). Volume 1 contains the aces Achard through Boyau, a very famous Drachen ace with 21 "sausages" (a term the French used to describe the Drachen) to his credit.
The break out of each ace's section includes name, birthright, and other biographical information at top, along with a graphical representation of the awards given. Then there's a photo of the pilot, followed by narrative for that person. Most aces also have color profiles of the "crates" they flew during the war, something this modeler relishes. Also included is a chart breaking out each "kill" with detailed information when known.
Volume 1 starts out with an excellent Introduction about the books in general, as well as a short treatise on French WWI aviation. Then the meat of the book starts with the ace Albert Achard. One of the joys of this sereis is the publication of photographs not shown before. In fact, pointing to the ace Boyau there are a number of photos of him and N77 that are part of the Paul Delestre Collection, most never seen before.
Something to point out: new research shows that the "famous" Nieuport 17 with a dragon/serpent on its sides did not belong to Boyau, instead belonging to another, unknown flier with N77. Boyau's personal mount sported a long caricature of a "weiner dog" (Dachshund).
Huge, HUGE thanks to Aeronaut Books for sending this review copy. Watch for reviews of the rest of the series in the near future. Contact them direct for ordering information.