Internet Modeler : New Releases : Book Reviews
RSS News Feed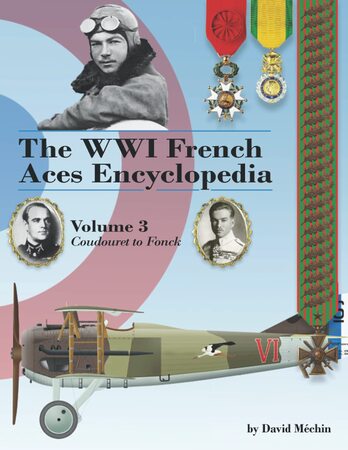 The WWI French Aces Encyclopedia: Volume 3: Coudouret to Fonck
Author: David Méchin
Publisher: Aeronaut Books
ISBN: ‎ 978-1-953201-32-4
Binding: Softcover
Pages: 280
Here is the third volume in The WWI French Aces Encyclopedia, Coudouret to Fonck. Coudouret was initially a two-seater pilot before moving into single-seat fighters, so his tally isn't as high as others. In addition he was flying out of Russia but moved back to France once Russia pulled out of the war.
The French WWI Aces Encyclopedia, broken up by the aces' last name in alphabetical order (with exceptions in Volume 8, which will be reviewed at a later date) consists of eight volumes. I will be reviewing each one.
The break out of each ace's section includes name, birthright, and other biographical information at the top, along with a graphical representation of the awards given. Then there's a photo of the pilot, followed by narrative for that person. Most aces also have color profiles of the "crates" they flew during the war, something this modeler relishes. Also included is a chart breaking out each "kill" with detailed information when known.
Volume 3 starts out with a narrative on the Spanish Flu and how it affected the aces' ranks. It wasn't as deadly in that rank as the rest of the world, but it did take it's toll on that fraternity. You can draw your own conclusions about the current pandemic and how it relates.
There are three of France's biggest aces in this volume, Duellin, Dorme and Fonck. The latter of course being the allies "ace of aces" with 75 confirmed kills. Naturally his section in this book is the largest in terms of page count. It's not meant to be a complete biography, though, just highlighting his time during the war and all his flying accomplishments after the war.
Huge, HUGE thanks to Aeronaut Books for sending this review copy. Watch for reviews of the rest of the series in the near future. Contact them direct for ordering information.