Internet Modeler : New Releases : Book Reviews
RSS News Feed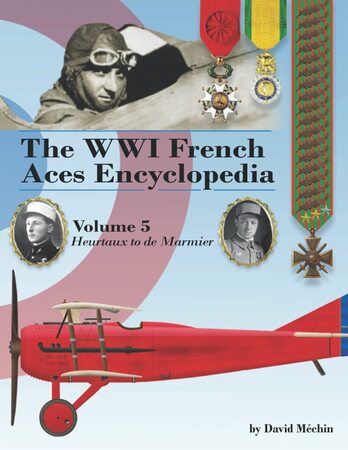 The WWI French Aces Encyclopedia: Volume 5: Heurtaux to de Marmier
Author: David Méchin
Publisher: Aeronaut Books
ISBN: ‎ 978-1-953201-34-8
Binding: Softcover
Pages: 312
Here we are on the "downward spiral" of my reviews of The WWI French Aces Encyclopedia, this one being Volume 5, Heurtaux to de Marmier. While Lionel de Marmier was not a high scoring ace during WWI, he had many more accomplishments after the war, one of them being given the task by General De Gaulle to create an air service to link the territories of Free France. Unfortunately he wouldn't see the end of WWII as the plane he was flying, with passengers, was lost at sea due to bad weather.
The French WWI Aces Encyclopedia, broken up by the aces' last name in alphabetical order (with exceptions in Volume 8, which will be reviewed at a later date) consists of eight volumes. I will be reviewing each one.
The break out of each ace's section includes name, birthright, and other biographical information at the top, along with a graphical representation of the awards given. Then there's a photo of the pilot, followed by narrative for that person. Most aces also have color profiles of the "crates" they flew during the war, something this modeler relishes. Also included is a chart breaking out each "kill" with detailed information when known.
Volume 5 starts out with a narrative about Zeppelins. While they weren't as much of a menance to France as the were to Britain, they did do some damage. Plus, the only French ace that shot down a Zeppelin - Charles Lefèvre - is contained within this volume as well.
Another interesting tidbit contained within this volume is Madon. According to his memoirs, he could have been the second highest scoring French ace during the war as he personally includes an additional 64 "kills" that if officially recognized, would see his score pushed to 105. Impressive. Still below Fonck's 107, if his total tally was officially recognized as well.
Huge, HUGE thanks to Aeronaut Books for sending this review copy. Watch for reviews of the rest of the series in the near future. Contact them direct for ordering information.