Internet Modeler : New Releases : Book Reviews
RSS News Feed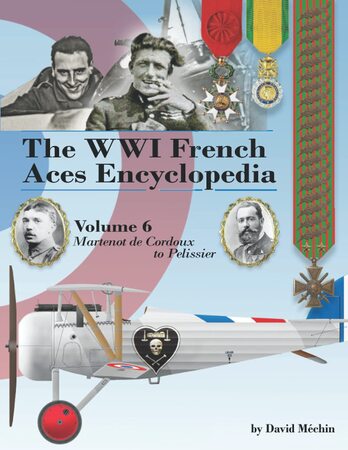 The WWI French Aces Encyclopedia: Volume 6: Martenot de Cordoux to Pelissier
Author: David Méchin
Publisher: Aeronaut Books
ISBN: ‎ 978-1-953201-35-5
Binding: Softcover
Pages: 300
During World War I, the United States relied on other nations to supply their aircraft, as their airplane industry was still young. Towards the end of the war, the US had aircraft manufacturers start with their own designs, Thomas-Morse being one of those companies.
Their MB-3 was the first "fighter aircraft" (called "pursuit" aircraft) that was designed and built entirely in the United States. All totaled, there were 265 aircraft produced, primarily for the United States Army Air Service (USAAS) and the US Marines. Ironically, Boeing outbid Thomas-Morse for the follow-on contract, so they built the majority of the MB-3 - specifically the MB-3A - all totaled 200 aircraft.
It's unfortunate that, for the most part, the aircraft has been lost to history. Thankfully this title eliminates that and does it well. Not only does it provide a history of early Thomas-Morse designs, but it also shows the progression of the MB-3 into the MB-3A. It also provides a history of the type being "dressed up" and used in the Hollywood movie, Wings. There are drawings and color profiles provided rounding out the title.
Unfortunately there is only one model known of the MB-3A, that being made by Sierra Scale Models, a vaccuum-formed model in 1/72 back in 1988. Now unfortunately out of production. (If anyone reading this article happens to have one or three of those kits they're willing to sell, please email me.)
I definitely thank Aeronaut Books for sending this review copy. Contact them direct for ordering information.