Internet Modeler : New Releases : Book Reviews
RSS News Feed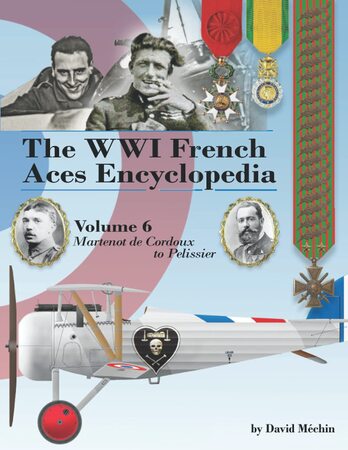 The WWI French Aces Encyclopedia: Volume 6: Martenot de Cordoux to Pelissier
Author: David Méchin
Publisher: Aeronaut Books
ISBN: ‎ 978-1-953201-35-5
Binding: Softcover
Pages: 300
The next review of The WWI French Aces Encyclopedia is on Volume 6, Martenot de Cordoux to Pelissier. René Pelissier was an "older" ace, considered "advanced" at 32 years of age. He had a couple of unlucky occurances and was transferred for a year as an instructor pilot, but even so he managed to end the war with 8 victories and 4 probables.
The French WWI Aces Encyclopedia, broken up by the aces' last name in alphabetical order (with exceptions in Volume 8, which will be reviewed at a later date) consists of eight volumes. I will be reviewing each one.
The break out of each ace's section includes name, birthright, and other biographical information at the top, along with a graphical representation of the awards given. Then there's a photo of the pilot, followed by narrative for that person. Most aces also have color profiles of the "crates" they flew during the war, something this modeler relishes. Also included is a chart breaking out each "kill" with detailed information when known.
Volume 6 starts out with "Chronica: CRP - The Air Defense of Paris 1914-1918". The CRP was the Camp Retranché de Paris, or Paris Entrenched Camp. It was brought into existence when Paris was starting to be bombed by different means. However, the "squadron" didn't amount to much, achieving no success during its career, with actual enemy "shoot downs" acheived by the flak guns.
Two other well known French aces - Navarre and Nungesser - are in this volume so their narratives are definitely larger than the rest.
Huge, HUGE thanks to Aeronaut Books for sending this review copy. Watch for reviews of the rest of the series in the near future. Contact them direct for ordering information.