Internet Modeler : New Releases : Book Reviews
RSS News Feed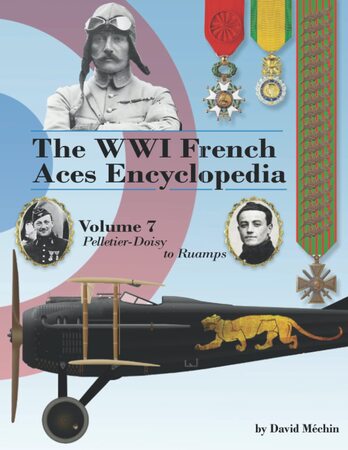 The WWI French Aces Encyclopedia: Volume 7: Pelletier-Doisy to Ruamps
Author: David Méchin
Publisher: Aeronaut Books
ISBN: ‎ 978-1-953201-36-2
Binding: Softcover
Pages: 196
In this next-to-the-last review for The WWI French Aces Encyclopedia, Volume 7, it is the thinnest volume of the entire run. Georges Pelletier-Doisy was an ace during the war - and one of the first fliers along with Jean Navarre - but his better known exploits were for after the war. He made a number of "raids" (what the French term first flights to-and-from another country/area) and was the first to a number of new places. He flew to almost everywhere in that hemisphere.
The French WWI Aces Encyclopedia, broken up by the aces' last name in alphabetical order (with exceptions in Volume 8, which will be reviewed at a later date) consists of eight volumes. I will be reviewing each one.
The break out of each ace's section includes name, birthright, and other biographical information at the top, along with a graphical representation of the awards given. Then there's a photo of the pilot, followed by narrative for that person. Most aces also have color profiles of the "crates" they flew during the war, something this modeler relishes. Also included is a chart breaking out each "kill" with detailed information when known.
Volume 7 starts out with a narrative about The Division Aerienne, Strike Force of of French Aviation. It was a group of aircraft, both fighters and bombers, that basically conducted aerial strikes on the ememy's side of fighting. The largest type of aircraft used during these strikes was the Breguet 14.
During the entire run of these books it was evident to me that someone needs to use these books as reference to market an entire line of French Ace WWI decals, especially in 1/72.
Huge, HUGE thanks to Aeronaut Books for sending this review copy. Watch for reviews of the rest of the series in the near future. Contact them direct for ordering information.