Internet Modeler : New Releases : Book Reviews
RSS News Feed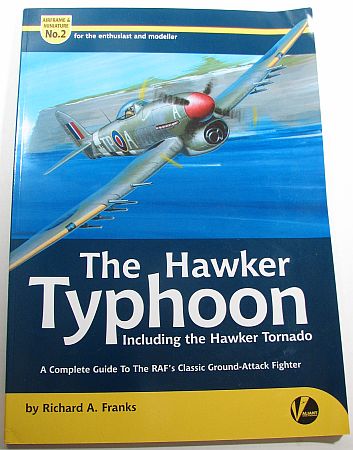 Valiant Wings The Hawker Typhoon Including the Hawker Tornado Airframe & Miniature No. 2
Author: Richard A Franks
Publisher: Valiant Wings Publishing
ISBN: 978-0-9567198-1-2
Binding: Softcover
Pages: 128
An excellent ground-attack aircraft, the Hawker Typhoon started life as the Hawker Tornado. Valiant's second title in their Airframe & Miniature series is on these airframes.
The book is broken out thusly:
Airframe Chapters
Evolution: Tornado
Evolution: Typhoon
Typhoon Production Variants
Drawing Board Projects
Camouflage and Markings
Survivor
Miniature Chapters
Hawker Typhoon Kits
Building a Selection
Building a Collection
In Detail: The Hawker Typhoon Mk.IB
Appendices
Tornado and Typhoon Kit List
Tornado and Typhoon Accessory List
Typhoon Decal List
Tornado and Typhoon Production
Bibliography
For the modeler, this Valiant title is the be-all, end-all. While there are books dedicated to history, squadrons and specific profiles, etc., the Airframe & Miniature titles helps the modeler in everything dealing with building their kit, but wrapped in one package.
As I mentioned in my review of their Me 262 book, Valiant hopes to provide an updated list of aftermarket accessories on their site, given the volatile nature of that side of modeling.
Chapter eight of the book covers the major "players" in the modeling world, in three scales - 1/72, 1/48 and 1/32. Chapter seven covers kits still in production in those three scales as well.
All in all this is an excellent addition to one's modeling reference library, especially if the Hawker Typhoon is the kit being built. Everything you could want in a modeling reference is provided for in this single title. Including drawings. In the back of the book are 1/48 scale fold-out drawings, so people building other scales will have to shrink or expand as necessary.
My thanks to Valiant Wings Publishing for providing the review sample.