Internet Modeler : New Releases : Book Reviews
RSS News Feed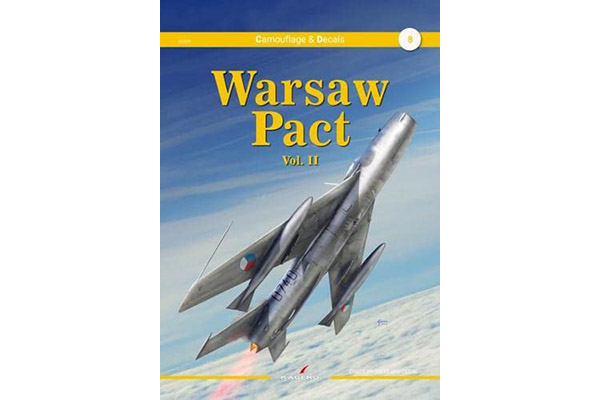 Warsaw Pact Volume 2
Camouflage & Decals 8
Illustrator: Marcin Górecki
Publisher: Kagero
ISBN: 978-83-66673-79-3
Binding: Softcover
Pages: 40
Kagero's new Camouflage & Decals series offers up some interesting combinations of aircraft and decals. The series concept has a selection of color profile illustrations highlighting the book subject, along with a decal sheet that provides the national markings for several of the options. This title is the second volume of Warsaw Pact aircraft, and covers a wide range of Mikoyan Gurevich aircraft, from the MiG-15 to the MiG-29.
Starting with the MiG-15, the book has illustrations for East German, Polish, and Czech options, including one two-seat MiG-15UTI in East German markings. Moving up to the next aircraft, there are Czech, Polish, and East German MiG-17s as well. Like the MiG-15 options, there are two styles of East German markings. And in what might appear to be a theme, the same trio of nations are covered for the MiG-19 as well. All of these aircraft illustrations up to this point show planes finished in overall natural metal, but that changes with the next aircraft: the MiG-21. For the MiG-21, once again the three nations are represented, along with a range of variants that include the MiG-21PF, MiG-21PFM, and MiG-21bis. One of the East German options is the first camouflaged option, being finished in what appears to be two shades of brown over blue-gray.
Moving into the last couple of aircraft types, the next one depicted is the MiG-23, and here we get the first Soviet options in addition to the expected Czech, East German, and Polish options. All of these are either in the typical three-color brown, tan and green camouflage or overall light gray. The final aircraft is the MiG-29, and here we finally lose a country, with Poland not depicted. The Soviet options are in the air superiority gray camouflage scheme, while the East German and Czech options are in a brown & green camouflage scheme.
The color profile illustrations are all very well done and show off some interesting aircraft schemes, and having the decal sheet opens the door for modelers to reproduce some of these options. The decals provide Czech, Polish, and both types of East German markings. Unfortunately, the decal sheet only provides the national markings and not the numbers or other markings for the individual schemes.
For those looking for good, high quality national insignia decals, along with some colorful inspiration for some MiG aircraft, this series is a very welcome addition to the library. My thanks to Casemate Publishing for the review copy.