Internet Modeler : New Releases : Book Reviews
RSS News Feed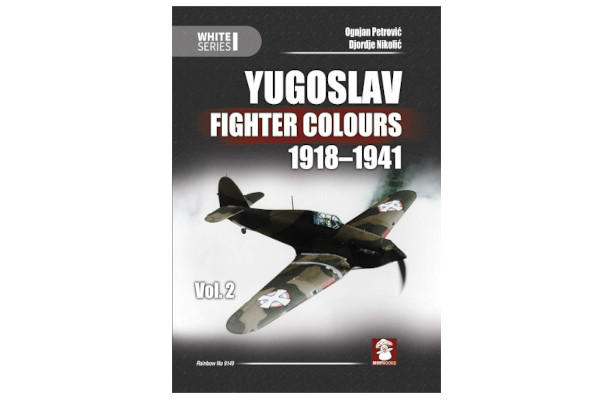 Yugoslav Fighter Colors 1918-1945, Volume 2
Authors: Ognjan Petrovic and Djordje Nikolic
Publisher: Mushroom Models Publications (White Series)
ISBN: 978-83-65958-26-6
Binding: Hardbound
Pages: 175
Once again, our most prolific of authors has published another book. This is Djordje's fifth book (his previous books being Yugoslav Fighter Colours Vol. 1, Special Edition Monographs of the Dornier Do 22 and the Rogozarski IK-3 published by Kagero, and Battle for Belgrade - April 1941 : Bitka za Beograd - April 1941 (dual Serbian/English edition) by Sluzbeni glasnik Beograd-I'm going to need a bigger shelf!). This latest book is the companion volume to Fighter Colors Vol.1. Volume 2, published by MMP Books is a part of their White Series. Volume 1 covers the early days of the Air Force and includes a comprehensive history of that period, followed by chapters covering 13 aircraft, their histories, technical details, camouflage, and markings. Volume 2 picks up right where Vol. 1 ends, with chapters on 10 more aircraft, so if you want the complete in-depth story of the Air Force and its equipment, it will behoove you to get both volumes.
| | |
| --- | --- |
| | |
Aircraft covered in this volume include the Hawker Fury, Ikarus IK-2, Hawker Hurricane Mk.I, Rogozarski IK-3 (check out Djordje's monograph), Messerschmitt Bf 109E-3a, Potez 63, Rogozarski R-313, Zmaj R-1, Ikarus Orkan and Messerschmitt Bf 110C-4. Each subject is accompanied by a comprehensive history of its acquisition and service, including numerous historical photographs acquired from museums all over Europe as well as many private collections. There are also complete statistical data charts including technical information, units, order of battle, lists of pilots and their planes and what became of them. Then, as the title suggests, pages on everything from serial codes, color schemes and national insignia to stencils and company logos are included. Co-author Ognjan Petrovic has illuminated the pages with over sixty beautifully illustrated full-page color profiles and three-views showing national insignia, unit markings, and camouflage.
| | |
| --- | --- |
| | |
This is a book that will be invaluable to aircraft enthusiasts, historians and of course, modelers. If you are a fan of unusual markings, or of small air forces, you will find this book to be a treasure trove of great ideas and inspirations. Kits of many of these World War II aircraft are readily available, such as the Bf 109 and 110, Hawker Fury and Hurricane, even the IK-3 and the Potez 63. If you're looking for something exotic, there's limited run kits available of the Rogozarski R-313, the Zmaj R-1 and the Ikarus Orkan, all very cool twin engine multi-purpose aircraft. Decals for several of these—and many other subjects—can be found at Lift Here Serbia, or you can even make your own.
I can't say enough about the quality of this book. The level of detail and information is outstanding and would make William Green proud. It is without a doubt the definitive history of the early Yugoslav Air Force and its fighter aircraft. The book is available through MMP, Casemate, and Amazon beginning July 7. I highly recommend this book (and Volume 1 as well!).
The review copy is courtesy of Mushroom Model Publications.