Internet Modeler : New Releases : Figures
RSS News Feed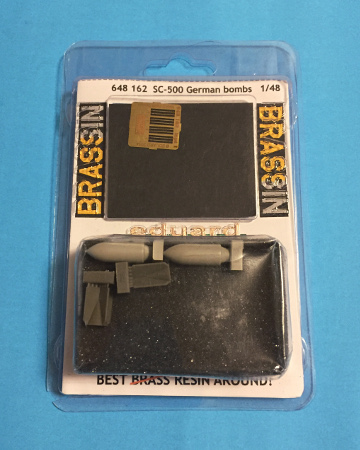 Eduard 1/48 Brassin SC-500 Bombs
German SC-500 (SC: Sprengbombe Cylindrich) bombs were general purpose ordinance used "to blow stuff up." They were filled with either a 50/50 or 40/60 mix of Amatol TNT and trialene. Luftwaffe ground attack planes such as the Focke-Wulf FW190F-8 often carried one of these on their centerline pylon.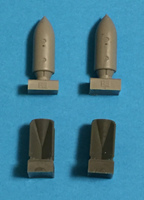 This Brassin set is a pair of SC-500 German bombs. It consists of a pair of resin bomb bodies, 2 sets of resin fins, a photo etch fret containing 4 pairs of fin stabilizer bars (?), plus a small decal sheet.
These bombs represent a signifcant upgrade over the ordinance found in a typical kit. You don't need to worry about filling a seam or losing fine detail. The fin stabilizer bars are scale thickness, which can only be achieved with photo etch. The small decal sheet is crisply printed, in register and very legible. The well illustrated instructions are up to Eduard's usual high standards, with a simple build sequence and color callouts for GSI Creos (Gunze) acrylic paints.
This is a great set that will increase the accuracy and detail of your next Luftwaffe ground attack project. It's a good value, and I recommend it to the serious modeler. I would like to thank Eduard for the review sample.
References:
The Luftwaffe Resource Center:
https://www.warbirdsresourcegroup.org/LRG/bombs.html