Internet Modeler : New Releases : Figures
RSS News Feed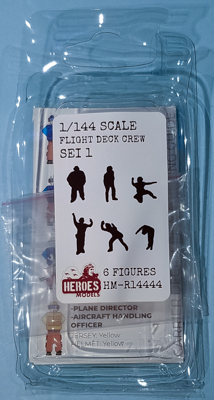 Heroes Models 1/144 Flight Deck Crew Set 1
Overview
Have you ever wanted to have scale figures next to your models either as a way to show scale, or as part of a diorama? Have you ever wanted those to be carrier deck crew? Well, Heroes Models has you covered.
The Set
The Heroes Models 1/144 Flight Deck Crew Set 1 consists of six figures in different poses. All but one are in "typical" uniforms for the crew, while the sixth is part of the fire fighting crew decked out in heat-resistant clothing. What is great when you receive one of the Heroes Models Flight Deck Crew Sets is the inclusion of cards explaining - and showing - what the colors of the crew uniforms mean. So aside from the one fire fighting crew figure, you can paint the figures in whatever colors that would match that set of crew functions. The figures themselves are very well molded and the detail is top notch. In fact, the molding on these figures is much better than some larger-scale figures I have seen. With the right highlighting and shadows you can really make these figures "pop". I've seen some of them painted up on-line and they really do look fantastic.
Conclusion
Heroes Models has released five sets of Deck Crew. You can purchase the sets separately, or as one large collection of all five sets. If you wanted to create an entire carrier deck in 1/144, you can now crew it. They will look fantastic when painted.
Huge thanks to Heroes Models for the set of figures to review.