Internet Modeler : New Releases : Figures
RSS News Feed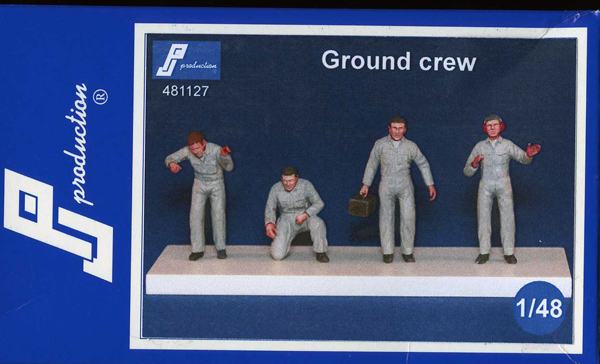 PJ Production 1/48 Ground Crew
I don't remember when I first saw scale resin figures by PJ Productions of Gerpinnes, Belgium, but I was impressed with what I saw and put them on my radar to acquire some. I like the poses and how well they're crafted. Although the figures are a bit hard to find in the U.S., (I notice PJ has many distributors in Europe), I've been able to buy some here and there, mostly through eBay.
Among the few figures I've bought have been 1/48 pilots for U.S. Korean War jets, NATO aircraft, and RAF WWII and current aircraft plus a couple 1/72 figures to serve as pilots in a Monogram B-52D. The 1/72 figures are mostly sold as a pair of crewmen. The 1/48 figures are mostly sold singly although PJ makes a set of four U.S. Navy crewmen preparing to load a bomb and a set of a three-man Lynx helicopter crew.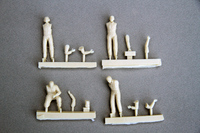 Now, PJ has released a new set of 1/48 four modern ground crew, product number 481127. There is no designation as to what country or air force they belong to so that's up to a modeler to decide by painting them in the desired uniform color. Each man is in a different pose--kneeling, bending over, walking with a tool box in hand and one, who's wearing ear protectors, gesturing to someone. All figures have patch pockets on their shirts--I guess that's the standard attire for ground crew everywhere.
They're cast in cream-colored resin with each figure on its own short resin block. The kneeling figure has one arm crossed across a knee and requires an arm to be attached. The other three figures need both arms attached. The casting is nice with only a few seams barely showing--a quick swipe with a sanding stick will eliminate those easily. For me, I look at the hands as a measure of how well figures are made and the fingers here are fine with thumbs showing separately in a few instances.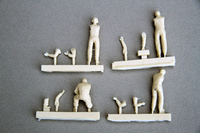 If you're looking for some good 1/48 modern ground crew, this is the set for you. If you're a 1/72-scale modeler and wishing for a set like this, you're in luck because PJ made a similar set, product number 721134, but with five crew in various poses.
PJ's 1/48 ground crew set has a MSRP of 18 €, or about $20.20 U.S. at the exchange rate at the time of this writing. The 1/72-scale ground crew has a MSRP of € 6, or about  $6.73 U.S.
Thanks to PJ Production for sending this set to review.