Internet Modeler : New Releases : Ships
RSS News Feed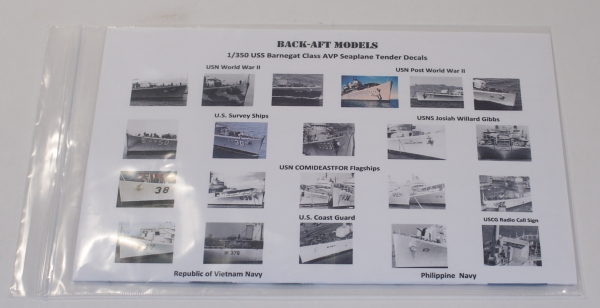 Back-Aft Models 1/350 USS Barnegat Class AVP Seaplane Tender Decals
The USS Barnegat class of ships was one of the primary seaplane tenders that worked during WW2. There were around 35 finished as actual seaplane tenders with another four that were converted for use as motor torpedo boat tenders. After WW2 they served as flagships, research and survey vessels, and a number of them were sold to other countries.
This decal sheet covers just about all options history served to the USS Barnegat class. There are markings for wartime use, markings for US Coast Guard ships, markings for the flagships, even markings for foreign use (such as Italian and The Philippine-owned vessels). However, there are not just decals for the ships. You also receive roundels and stars-and-bars for the seaplanes as well. Back-Aft Models tends to concentrate on seaplane tenders so you can be sure of their accuracy.
The instructions consists of a double-sided piece of cardstock, one side with a commentary about the USS Barnegat Class, the other side small images of actual Barnegat ships, including some of the foreign ones. If you want more detail, though, you'll need to track down further references on your own.
They are intended for use with 1/350 USS Barnegat AVP-10 Class Seaplane Tender models including Iron Shipwrights, Inc.'s USS Mackinak AVP-13 resin model kit and/or Back-Aft Models USS Barnegat Class Conversion Sets with waterlined hull.
They are to be sold separately for $13.00 but, included at no charge with Back-Aft Models USN PLUS SUPER SET conversion sets that sell for $89.00.  There are currently 3 such PLUS SUPER SETs.
A definite "thank you" to Back-Aft Models for the review set.