Internet Modeler : New Releases : Ships
RSS News Feed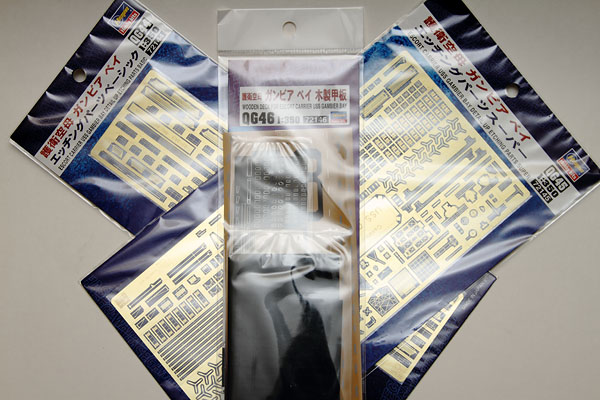 Hasegawa 1/350 Gambier Bay Photoetch & Wooden Deck
Overview
The Hasegawa 1/350 Escort Carrier is an impressive model out of the box, but like most ship kits, there are some aspects that just are not able to be rendered in injection molded plastic. Most common are railings, but other details like antennae and masts are just too fine and are better represented in photoetch. As the Gambier Bay kit has just been released, we would expect to wait a few months for aftermarket sets to show up. Hasegawa has set us modelers up with some great photoetch sets, released at the same time as the kit itself. Here's a look at what these sets provide.
QG44 Escort Carrier USS Gambier Bay Detail Up Etching Parts Basic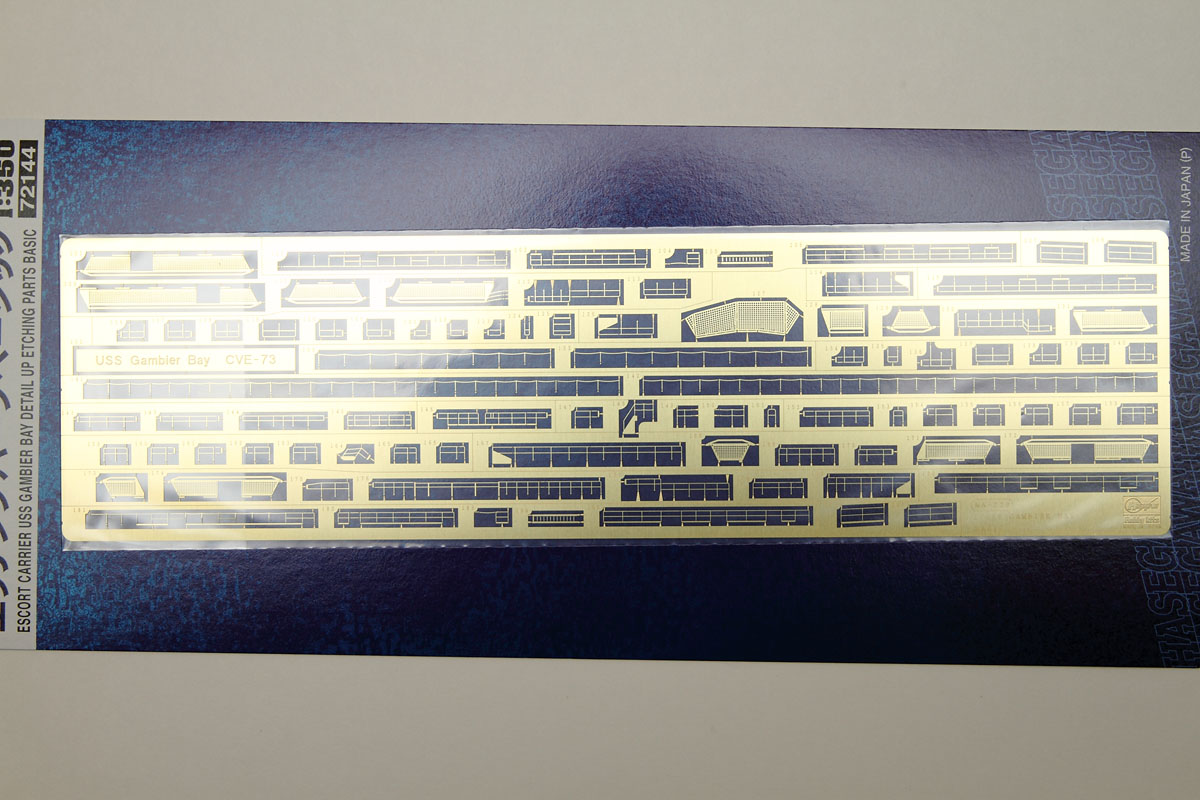 Labeled 'Basic', this set provides a complete set of railings for the USS Gambier Bay. While the scope may be basic, the content definitely is not, as there are quite a few railings on this ship. The instructions are very clear and detailed, showing exactly what needs to be bent where, which is very nice given some of the complex shapes that the railings have to fit around. In addition to the drawings, there are photos showing the railings in place on the kit, which is another nice touch. In addition to railings, there are also several safety nets provided. This set is almost essential set for the Gambier Bay, as the simple addition of photoetch railings makes for a huge improvement to any ship model.
QG45 Escort Carrier USS Gambier Bay Detail Up Etching Parts Super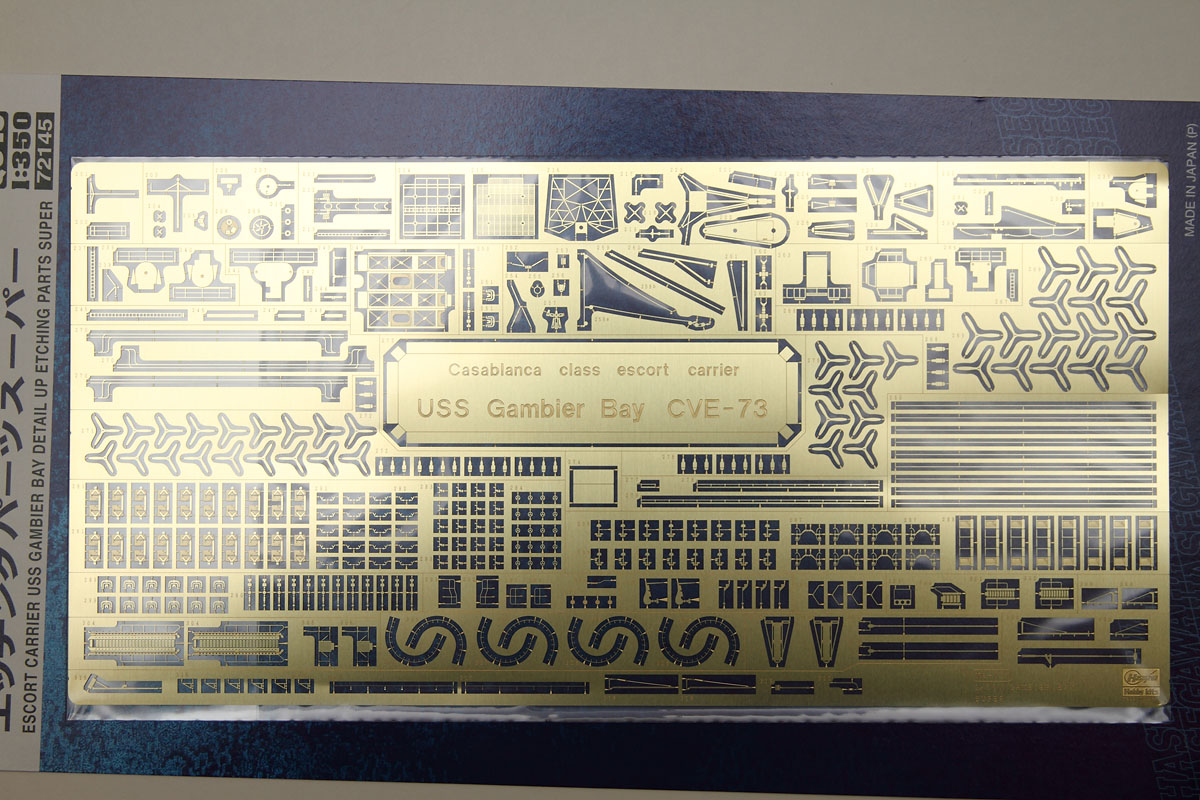 For those wanting to go all out on their Gambier Bay, this set will answer all of your wishes. This set provides propellers for the aircraft and rudders for the boats. There are several highly detailed stairs that will require some careful folding, but have incredible detail. The guns get various railings, shields, and control parts added, resulting in a greatly enhanced assembly. The deck has thin landing wires as well as an ensign mast and some small antennae. The island gets quite a bit of extra detailing as well. In fact, one whole instruction sheet covers nothing but the island. The large flat array antenna is most prominent, but there are lots of other details that will turn this model into a masterpiece.
QG46 Wooden Deck for USS Gambier Bay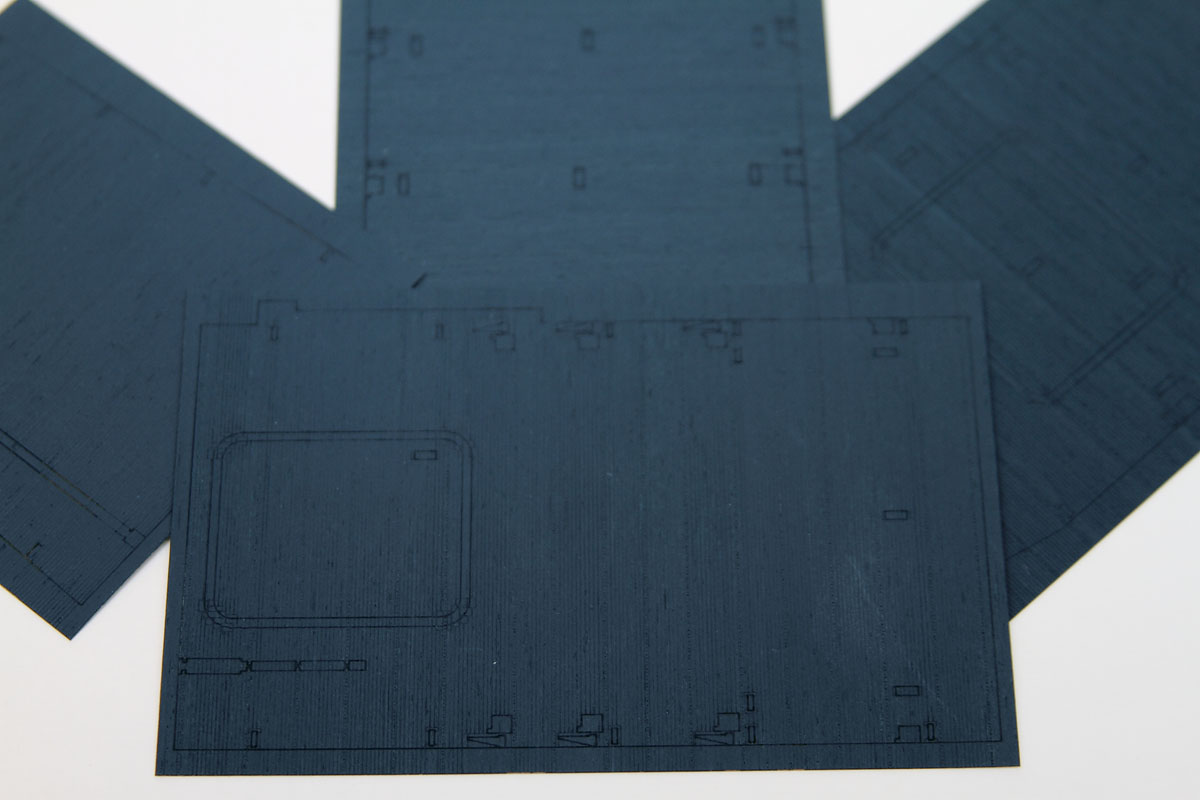 Not a photoetch set, but an interesting aftermarket set nonetheless, is the Wooden Deck set. The main part of this set is the wooden deck parts, which splits the main deck into seven pieces. These come on four self-adhesive sheets, and the modeler will have to remove the raised detail on the plastic deck to fit these parts on. There are several knockouts in the wood parts for the various metal fittings, which are provided on a painted photoetch fret. Finishing out this set are the transfers. As the deck is now wood, applying waterslide decals would cause problems, so this set provides the deck markings as dry transfers. This provides excellent markings without damaging the wood deck. Some hull markings are also provided.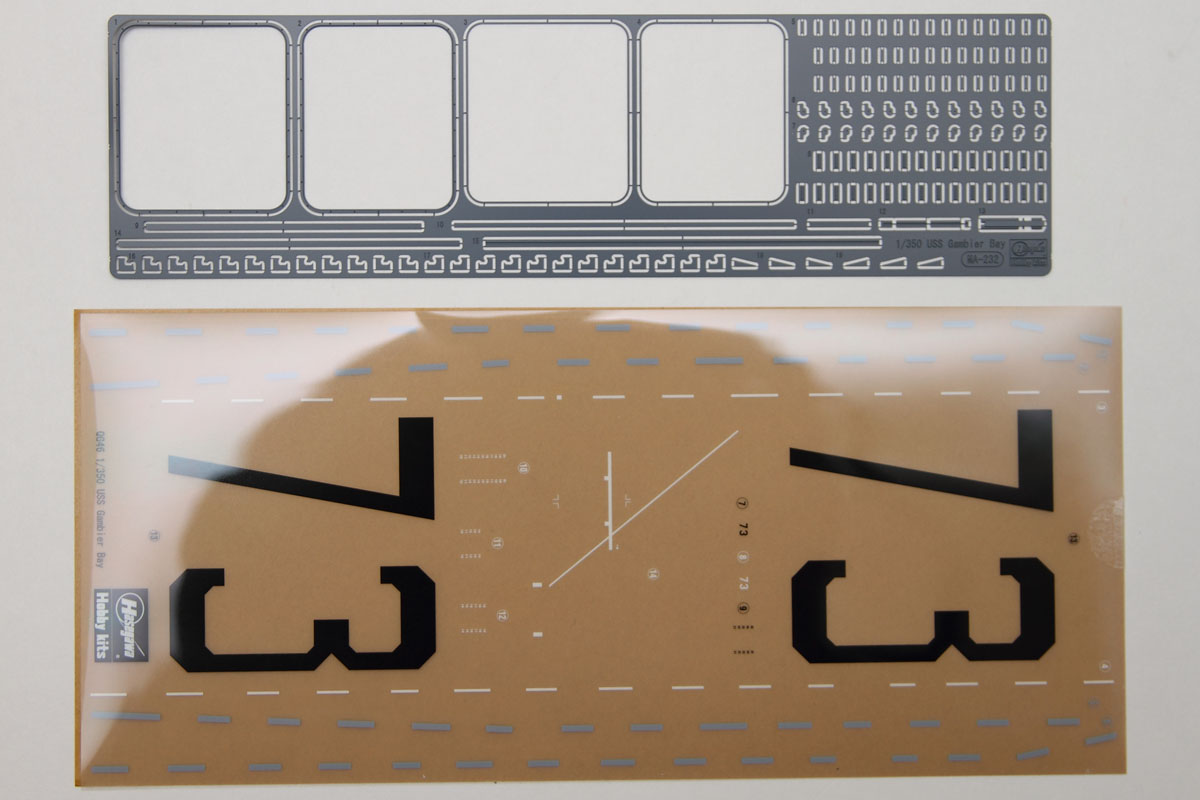 Conclusion
These three sets together will make your Gambier Bay model really stand out. Whether you choose just the railing set or a combination of the three, the final result will be well worth the price. My thanks to Hasegawa USA for the review samples.