Internet Modeler : New Releases : Ships
RSS News Feed

Pontos 1/350 CVL-22 Deck
Wood deck replacements have been growing in popularity for the last five or ten years. Initially laser cut somewhat thick pieces of unpainted wood, technology and technique has advanced such that pieces are thinner and come with their own backing material. Enter Pontos, with their add-on deck for Dragon's CVL-22 Independence-class light aircraft carrier.
It is impressive to see how far technology has taken this aftermarket niche, and how well Pontos packages a great set together. Not only is the wood veneer thin, it is pre-stained in the appropriate deck color. Additionally, since wood presents difficulties for water-slide decals, dry-transfer markings are provided, which might alone be reason to buy the set if decals provide extra difficulty.
Included in the set are two deck pieces, one photo-etch fret, one dry-transfer sheet, a length of anchor cain for the bow, and a color-printed instructions guide. The deck pieces, when fit together, show no visible gap that the builder should need to worry about, so long as they place the pieces right next to each other. It might work as a precaution, if this is your first wood deck, to determine the general area of the joint and to paint a cross-wise coat of flight deck stain 21 (revised) before setting the deck down.
The deck planking is at least as fine as Dragon's. One area where there will be some prep in advance is the arrestor cables, which will need to be removed to allow the deck to sit flat in those areas. In fact, this set will be a benefit to those who find the cables over-scale, but don't want to contemplate sanding and then re-scribing such fine lines in as a replacement. There are borders outseide of the deck to provide a little protection to the edges that will also be handy for testing weathing techniques, if you wish to represent your bird farm with all of the scuffs and oil drips that accumulate over time.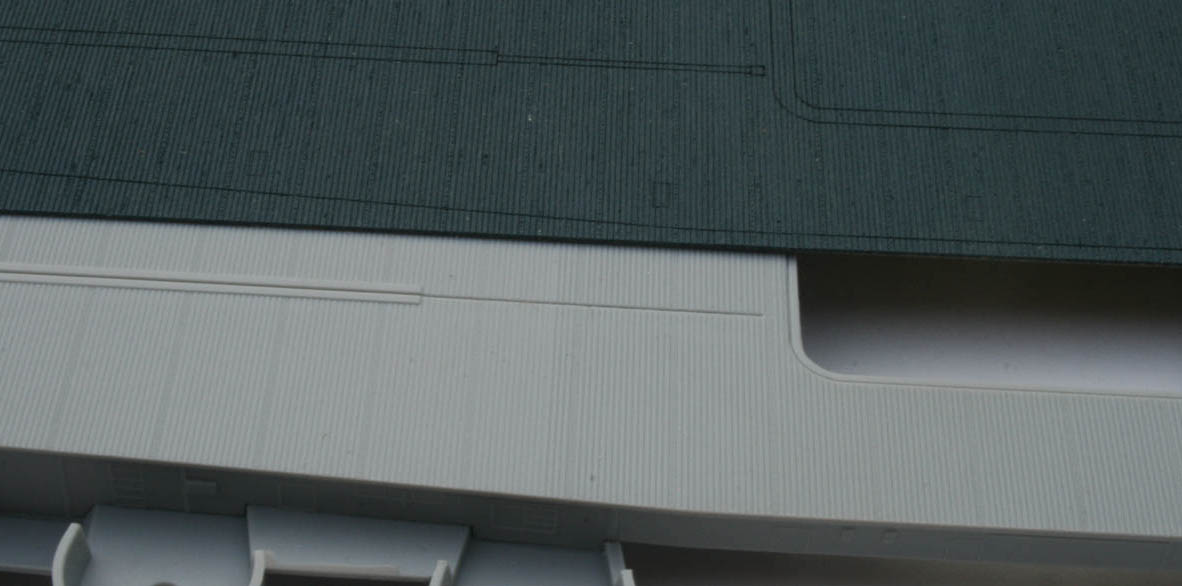 The photo-etch fret provices many relief-etched details to fit on top or aside of the deck. The parking aprons outboard of the deck were fabricated with a pierced steel decking which is lacking in the plastic piece, but well rendered in the photo-etch. Similarly detailed pieces are included for the crane platform forward of the island and elevator joints. Also provided are replacement arrestor reels, barricade flippers, single catapult track, and expansion joints.
Caveats
This deck is optimised for CVL-22 during her first war Cruise. During her shakedown in early 1943, she was painted in Measure 14 using 5-O Ocean Gray, which called for the original Flight Deck Stain 21. This was closely matched to Ocean Gray. When she reached the Pacific she was repainted into Measure 21, using 5-N Navy Blue, and the revised Flight Deck stain 21, which matched 20-B Deck Blue. I don't think there is any reason the wood deck cannot be repainted in Flight Deck Stain 21 or Ocean Gray, but I haven't experimented with it.
Additionally, between her first and second war cuises, the two-gun 20mm gallery was removed and replaced with a "plug' in the gap it had created in the starboard parking platforms, creating one continuous platform. This piece is not provided, but should not be too difficult to create in thin styrene. The piece itself was not pierced as the other pieces were, so the difference in appearance would actually be correct.
Finally, this set comes with the pieces to do a single-catapult version of the deck; this will not help builders who wish to do Independence in her later fit or other ships that had two catapults later in their service life.
Conclusion
This set is well designed and implemented. It will add detail to an already finely detailed model, and will help those who have problems with decals or wish to replace the over-sized arresting wires.